Next island: St Christopher (St Kitts)

Take Off
Jörgen Wennberg
Sun 15 Mar 2015 02:17
Basseterre, the capital, is the site of the original French settlement in St Kitts. In 1783, under the treaty of Versailles, St Kitts became British. Today they are fully independent twin-island state with Nevis.
The Circus is modeled after Picadilly in London.
The kids were really happy to walk their scooters!
The architecture varies from solid British to fancy French.
We picked the market day and in every corner of the town you could see a market stand, mostly fruit and vegetables.
I found this location quite funny. Wonder if this would be legal in Europe?
The people from St Kitts are very religious and at nearly every second corner there is a church with cheering and praising the Lord.
On our way out of Basseterre we passed the fish market right on the beach.
Happy kids on their way to the pool.
We had heard of Palm Court, a 10 min walk from Basseterre, being a nice place to spend the afternoon away from the boat. The place had an Italian touch with a beautiful garden, a spectacular pool overlooking the marina, lots of hammocks and a really good restaurant. It was a perfect hangout so much for us as for the kids!
Alex and Inez found new friends spending the whole afternoon in the pool.
Pool lunch.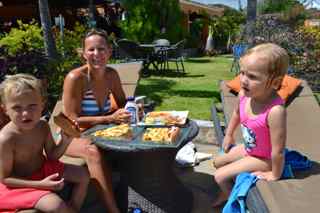 Just above our heads flew these two pelicans. Very gracious birds.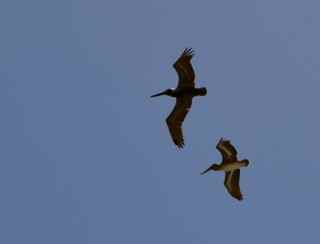 This was a beautiful and very relaxing place!

The day after we took an island tour and made another historical trip. We started with the Blood River, a historical place. It was here that in the late 1600s the Brits and the French teamed up to massacre the 2,000 Carib inhabitants. Noone survived except from a Carib lady, the one who betrayed her people.
The kids sharing a window in the taxi.
St Kitts had also one of the Caribbean's important sugar plantations, we visited one of the few remaining sugar mills.
Our next stop was at Romney Manor, a former estate house, now hosting a restaurant and a beautiful garden.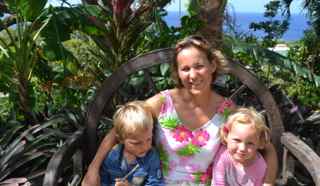 The garden is dominated by a giant saman tree, being more than 400 years old and the oldest in the Caribbean.
Our next historical stop was at Brimstone Hill, a fort being built during 107 years before it was finished. The fort was a strategic important position for both the Brits and the French. This was impressive military quarters where people lived like in a village, as an own community with a bakery, a church, a barber shop…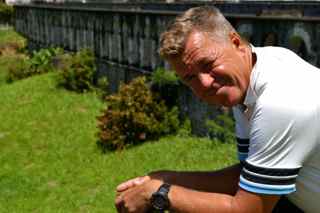 We ended our tour on St Kitts by visiting the Black Rocks, rests from the volcano eruption some thousands years ago.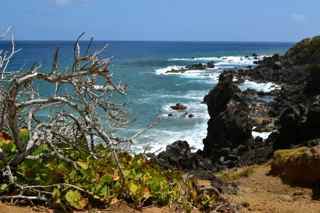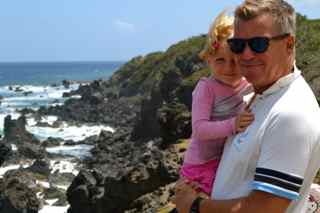 ---