Sailing the Indian Ocean - showering

Take Off
Jörgen Wennberg
Fri 6 Oct 2017 21:52
The Indian Ocean: a true tumble dryer or rather a washing machine because we got pretty wet outside as inside the boat. We were warned that the Indian Ocean was going to be a rough one and every word of it is true! The waves were nasty big and shoppy up to 4-5 meters breaking constantly over the boat with many litres of water in the cockpit, the swells were coming from 2 directions, we had 20 knots up to 36 knots of wind and we had a rough movement in the boat all the time. We had water intake from the port side of the boat through the window dripping water nearby the navigation seat where the AIS is installed under as well as through the shrouds making everything wet on the port side of the boat. One of the hatches in the salon is not closing properly so when a wave unluckily hits the boat in a certain angle we get water intake right on the sofa. We also had a few squalls coming over us every now and then. All in all - yes it was wet!
Every action taken was a challenge. For example taking a shower which is something we take for granted on land is something we do not do every day…. we do it every 4th or 5th day. We have nothing to hold on to, we take a bucket of water from the sea, held over our head, shampoo and wash, fill the bucket again with seawater while the boat is sailing in 8-9 knots… yes it's fast and you don't want to loose the bucket! Shower again and if we are lucky and we have enough sweet water to get to rinse ourselves.
Now for Alex and Inez: we cannot shower them with their life jacket on so we just make sure they hold on tight to whatever is closest and we go for it!
This day was a more calm day to shower.
Ok Daddy I am ready for the rinsing.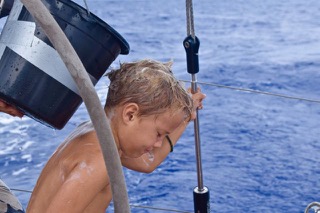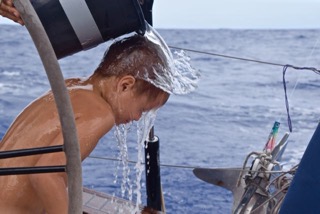 Fooling around
Inez's turn.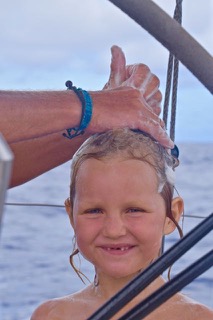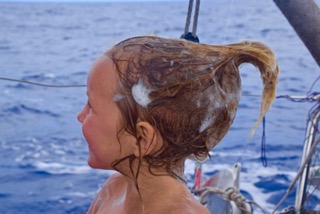 Happy clean girl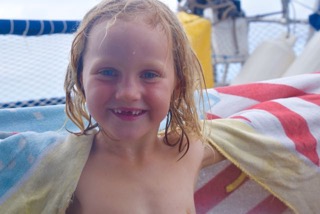 ---