One day on Madeira

Take Off
Jörgen Wennberg
Sat 25 Oct 2014 19:50
Started the day with a morning walk along Baia d'Abra at the far East of Madeira.The picture says it all!
We got an efficient 6 hour tour of Madeira with our guide Joseph including a stop for lunch with typical fish dish with banana. We started off by driving to the North East of Madeira where the view was totally breathtaking!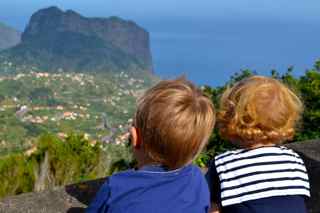 Madeira is well known for its flowers. We saw hortensias everywhere along the road and even "julstjärnor"! The Christmas flowers decorating every home during Christmas. Here you can just pick them anytime of the year.
Considering all the in-and-outs of the car the kids pledged to stop at a playground we found on our way. Off course, they have been really patient. And Happy kids = Happy parents!
These houses are typical of the area of Santana - on the North East of Madeira
Yet another breathtaking view!
The highest point of Madeira where a huge fire had taken 90% of the National Park in 2006. It will take 30 years for the forest to grow pack again.
Funchal in the background
And now to a typical Madeirian entertainment. Sledge on the road!!! Ok touristic, however hilarious, fun, scary and wow what we'd like to do that again!! Far better than any other fun park! And it went fast. No helmets, no safety belts - just 2 "drivers" pushing the sledge straight down on to the street. It was FUN!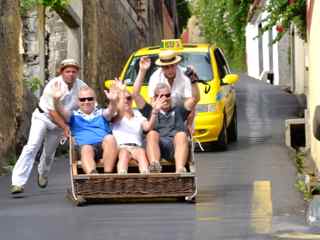 Wisdom from Madeira and a likewise plant ;-)
We finished the day with visiting the highest cliff in Europe, also being the second highest cliff in the world! Cabo Girao 580 m over the sea. In the 3rd picture notice the little spot in the sea, being a big ship! We stepped out on the plexiglas looking straight down on the sea.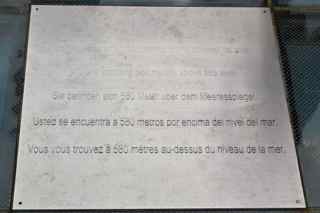 On our way back to the marina, we passed under the airport's runway, exactly where the planes fly in and land. Madeira being short of space there is also a marina under the runway. Every space is valuable…
Thankyou for a lovely day on Madeira. We will be back ;-)!!
---