The kids crossing

Take Off
Jörgen Wennberg
Thu 11 Dec 2014 18:59
Amazing how the kids managed to adapt quickly into their new daily routine on the boat, playing super heroes, sliding down with the cars when the boat was rolling enough, enjoying iPad day (twice/week), falling asleep easily or even just relaxing.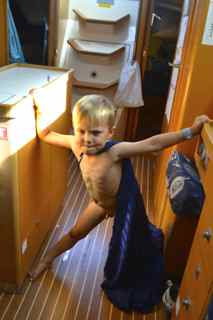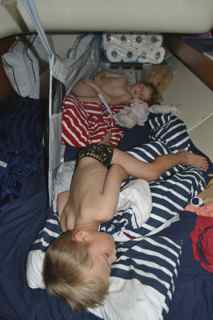 They even managed to play hide and seek. However after hiding in the toilet for the 5th time Alex got really upset on Inez when he found her there again. "It's not funny anymore, why don't you hide in another place for?". It was also nice to see them finding space for themselves
In order to make the crossing more fun and to follow the days until arriving upon St Lucia we did a "Sailing Calendar" for the kids. They drew boxes with dates from 24 nov to 13 dec. Every morning we made a cross over the previous day, counting on the days that had gone and counting on the days we had left to St Lucia. This made it easier and more fun for the kids knowing how many days there were left of the crossing. They loved crossing the days!
In the beginning I did something with them nearly everyday, such as modeling Christmas stars and they made their own Christmas Calendar. However the more the days passed by, the more they occupied themselves…
… such as reading or playing cards…
… as well as trying to reach each other while they were both attached on each side of the both. Very funny!
When we were entering the tropics, I realised that clothing the kids was a waste of washing so they mostly were "nakenfisar". Very convenient.
The mornings we mostly started the day be reading a book before Daddy woke up.
For the rest of the crew the challenge was to have laughing and playing kids around in the boat while trying to find some sleep in order to be able to do the night watches. However we found many moments of joy and the kids got their playtime to with them.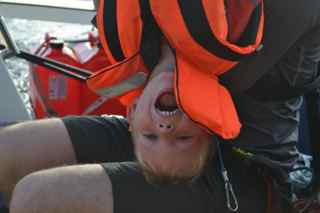 ---