Kakadu National Park: Yellow River

Take Off
Jörgen Wennberg
Fri 1 Sep 2017 19:00
Our second day in Kakadu National Park we started with a tour on the Yellow River at dawn. We woke up very early and joined the boat ride at 5h30 in the morning! The local Aboriginal name for Yellow Water is Ngurrungurrudjba. The Yellow Water is part of the South Alligator River floodplain. Cruising on the river gave us a marvellous opportunity to see the varied birdlife of Kakadu's World Heritage wetlands. The landscape and wildlife was really beautiful!
The wildlife was amazing to see, especially with the variety of birds. However the most surprising was to see wild horses in Kakadu National Park!
A curious crocodile
An eagle spying what could be hunted this morning.
A beautiful picture of this crocodile lying totally immobile in the water. Note its reflection.
We had this fantastic guide, Stuart, half Aborignal half Australian, who was passionate about his work and every time he found a bird, whatever size, he was totally thrilled and could tell everything about it. He was amazing to listen too! This one was a tiny tiny tiny bird, called a Kingfish. Unfortunately, don't have the name of this second bird.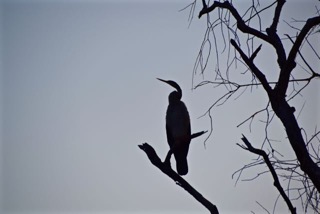 Alex socialising with our guide Stuart.
Coming closer to the shore we found this huge crocodile with his girlfriend not far away from him.
This trip was memorable, especially thanks to our guide Stuart who was more an actor than a guide. He explained to us what happens when crocodiles attack their preys. They don't eat them nicely and gently. They rip off the flesh, shaking it from left to right and he made the gesture and showed us how a crocodile can eat a human being. Wow he was really fascinating to listen to.
Alex and Inez found him very funny too!
The river was beautiful everywhere.
From far far away we also got the opportunity to see a bull!
More crocodiles...
This bird is fascinating. Look at its huge "claws" enabling it to walk on water where he finds food in the water lily.
It is the father who is taking care of his chicks. The mother leaves the family as soon as the eggs are hatched and the father carries on feeding his babies and bringing them up.
Alex and Inez found a new friend, Zoe from Malaysia living in Darwin, whom they played with at breakfast after the boat trip.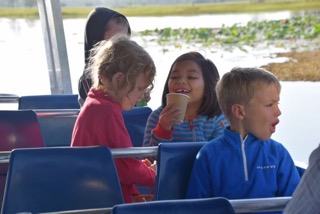 All along the road we found these burned trees. We tried to figure out why? This is the answer:
"The Role of Fire"
Aboriginal people have burned country for tens of thousands of years. The ancestors gave them a cultural obligation to look after and clean up country, a duty handed down from generation to generation. Signs in nature told them of the time to burn, a time when minimal harm would be done to country but huge benefits would be gained. Their ongoing traditional management of country is recognised in Kakadu's World Heritage listing. Balanda (non-Aboriginal people) are now starting to realise the value of this age-old Aboriginal knowledge. In some areas where no burning took place, noticeable harm was done. Now that traditional burning is back, the landscape is once again abundant with native flora and fauna. These days, conservation managers across the top of Australia are using traditional patch burning in the cooler weather to prevent wildfires, to repair country and to encourage biodiversity to recover.
This is quite a story…. remember the tooth that Alex lost during the Aboriginal walk yesterday? To make sure we did not loose it, Louise put the tooth in a glas of water. Off course she forgot that the tooth was in the glas and poured out the water when cleaning up…. So we had to stop by the side of the road, empty the water tank, hoping we could see the tiny tooth pouring out… haha…. it was a wild guess…. However it was gone somewhere among the million white stones on the ground. Luckily the tooth ferry did come anyway.
So off we left Kakadu National Park and drove further towards Litchfield National Park. Kakadu National Park has been a real pleasure to visit: beautiful landscape, interesting history, spiritual, cultural, rich wild life and amazing to visit!
---