Arriving in Las Palmas

Take Off
Jörgen Wennberg
Tue 28 Oct 2014 22:08
Our first night from Madeira was a bit windy! Lucky we had these "sjökojor". Not very cosy however very smooth not to squash your neighbour or me the kids when rolling off to one side.
Håkan at his morning shift.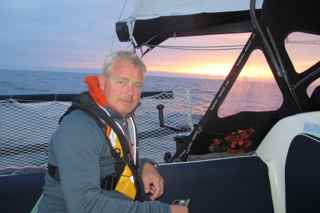 Gran Canaria!
However not a very glorious entry into Las Palmas. The spinnaker managed to entangled itself and with its "sock" difficult to entangle it back from deck. Håkan being the strongest got the privilege to climb up the mast. Great job!!
The longing ice cream after several days at sea.
Last night in Las Palmas with our wonderful crew that made our journey from Cascais, Portugal to Las Palmas, Gran Canaria possible ! Thankyou very much!! You've been a great support, lovely company and secure crew member. Looking forward to further more sailing together. Alex and Inez are missing their "polar'n Håkan Bråkan" ;-)!
---