Walking in James Cook footsteps on Possession Island

Take Off
Jörgen Wennberg
Tue 22 Aug 2017 19:45
As we were a bit ahead of our friends Owl and Sandvita we took a quick stop at Possession Island to walk in James Cook's footsteps and visit the monument raised after him to honour where he declared taking possession of the Western part of Australia under the English Crown, thereof the name Possession Island.
While we took our dinghy to shore we saw this helicopter hovering just over us, coming closer and closer. As close that we thought they would land on the island. It was Boarder Force that ad been calling us on the VHF, however we had no handhold VHF with us.
As we were now on the Northern part of Australia boardeing towards Papua New Guinea they just wanted to have a thorough check who we were. The aussies have a serious controls of their boarders!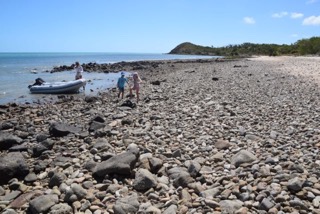 We walked to the monunment, took a few pictures of the monument and its surroundings…
…. till we had a real proper look at the monument and found that the date James Cook had taken Western Australia into possession was the date of today: the 22nd of August 1770! So we were exactly 247 years after him.
Over there on the other side is Torres Strait (Northern part of Australia) and even further is Papua New Guinea
Walking back to the dinghy it was sad to see all the rubbish the sea brings along to the shores. Really sad. And this is so even in the most remote inhabited islands. We do have a responsibility towards nature.
Once the historical cultural part checked we headed further to Seisia to meet up with Owl and Sandvita.
And what a surprise we got along the way!
---