Leg 10 Christmas - Cocos (Keeling) Island

Take Off
Jörgen Wennberg
Sun 24 Sep 2017 20:31
In the morning of 23rd of september we left Christmas Island at 9h00. We had hardly left Flying Fish Cove that we encountered hard wind and a sea building up high waves and swells: Welcome to the Indian Ocean!
We had been warned from many people how hard the Indian Ocean could be and in fact we now understood that this would only be the beginning.
We sailed in average in 8 - 10 knots flying Take Off over the waves. We started sailing with full main sail and jib, however we quickly diminished the main sail to the next reef. Our first night felt like a mess, very choppy and pointy waves throwing Take Off unpleasantly back and forth. Everyone is pretty tired and we all feel lacking of energy.
During the night of 24-25th of September we had up to 33 knots of wind and many fishing boats in our way. Some are lit, others not. We even had som fishing "potoons" to be aware of. We saw a few big mother ships being anchored while smaller ships come back and forth to empty their cargo. We guess these are Indonesian fishing boats. None answers our VHF calls. Probably due to lack of English.
The sea being so choppy Take Off is being showered with big waves turning everything wet, even in the salon!… The picture to the left is water intake from the sprout and the window. The water then continues onto the wall where we Alex's and Inez's drawings, turning them into another sort of painting… Louise sleeping in the salon is woken up by the water dripping on her. Alex and Inez also got their cabin quite drenched by the water as their hatch was not closed enough. Everything is wet, wet, wet, wet… These first 2 days are the most difficult we have had so far!
Being so windy we managed on the 25th of September to set our next record for the last 24 hours: 204 NM!
Although the sea and the wind are giving us a hard time we still continue our daily routines with schooling, cooking, etc….
The day after before coming into Cocos Keeling the sea got a bit better in the morning giving us a quite pleasant sailing.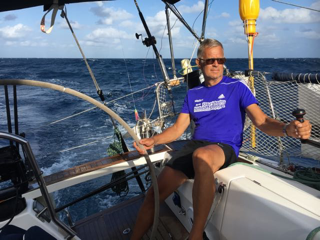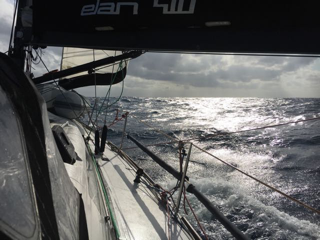 On the 25th of September at 23h58 we came into Cocos Keeling Island. Just as we are to take down the sails we got hit by a squall with lots of rain and wind and difficult to see where we were going. We saw all these very strong red and green lights thinking it was the airport…. the day after we saw it was the way into the harbour of Home Island (by the way airports have white lights…). Arabela and Cesarina where ahead of us so we anchored close to them, outside of Direction Island as it is not recommended to get in there during night time. Quite close after us came Solo so we helped them in too.
We had some sandwiches and a "sängfösare" and off to bed!
---