We are back!

Take Off
Jörgen Wennberg
Wed 30 Dec 2015 22:06
WE ARE BACK!
We are back and the feeling is just like coming back home! Before leaving the packing seemed endless and will all this fit in the boat? Most of the volume are Alex's school programe and all the kids' Christmas present. Difficult to select which ones to leave behind.
On the 26th of December we left the Christmas partying with Louise's family in Geneva and flew off to Martinique through Paris.
And here she is. Take Off - our second home! Felt like yesterday we left her in Grenada in April for the hurricane season. Jörgen and his boys Henrik and Douglas sailed her from Grenada to Martinique in November this year. This was to make the transportation easier for the start of the World ARC in January from St Lucia being just South of Martinique. Also we need to repack the life raft which we only could do in Europe (Martinique).
Alex and Inez had a blast finding all their "boat" toys again and felt at home straight away in "their" cabin.
And now for the biggest job! To stow everything where it belongs and you need to be smart. Everything has to be accessible, especially when it is rolling.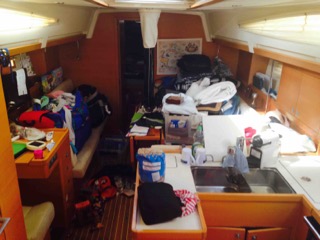 After one day of fixing the boat in Martinique we left with our friends Clas Müller and Marie Arvidsson who are visiting us for the New Year in the Caribbean. We started by motoring off to St Anne, 30 min from Le Marin in Martinique. For the night we put on all the lights and discovered that none were working, except for the starboard (green) light. These lights are essential when sailing in the Caribbean and around the World. The nights are pitch dark. So we had no choice than to go back to Le Marin again first thing in the morning. I must say whatever thoughts I have had over the French islands in the Caribbean are now totally erased. The amazing service we received in all matters was tremendous!
The problem showed to be erosion. Due to salt and sun all the lights had missed their connection and we had to replace most of them. Luckily we had handyman Clas assisted by Jörgen to fix it.
In the afternoon on the 29th of December we were off sailing our first sailing day! WHAT A FEELING! Great wind, great waves and Take Off sailed all the way down to St Lucia so easily.
Arriving in St Lucia. This view was quite nostalgic as it was the view we had when first seeing land after the Atlantic Crossing last year = Pigeon Island on St Lucia.
And for the sundowner. A must when sailing! We even manage to see the "green flash".
Alex and Inez were very quick at picking up the Yatzee game which had been our tradition last year during our sundowners. Clas and Marie had no choice than to join.
---