Alex and Inez crossing the Pacific

Take Off
Jörgen Wennberg
Mon 14 Mar 2016 02:12
9.51 S
120.57 W
During DAY 2 Alex and Inez are preserving their tradition and made a "Sailing Calendar" for the amount of days we think we will be sailing to HIva Oa. Everyone on board took the pen and draw all sorts of sea animals adding on some extra touch to their calendar.
It says Stila Havet = the Pacific in Swedish. Every morning Alex and Inez took a turn each to cross the previous day.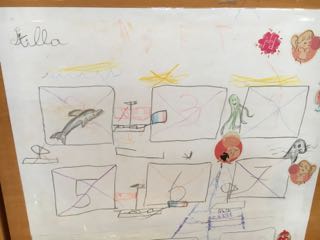 Every day we had schooling with Alex for approx 2 hours. We managed to cover a whole topic "Découverte du monde: le vivant, la matière et les objets" with 4 exams as well as starting Alex's maths program.
Playing cards: Nilla and Janne who followed us from San Blas to the Galapagos learned the kids to play "Vänd tia". And they love it! We play it at breakfast, at lunch, during our sundowners and they play whenever and wherever they can.
Inez sharing her Christmas present she got from Tata Mado with Alex : gluing nail stickers on their nails.
With no friends nor playground Alex and Inez adapt their socialising with the VHF calling Raphaël on Heidi nearly every day until they became out of reach.
Playing cool kids…
Any activity can be a game, even brushing teeth at night.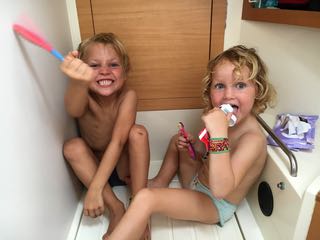 Alex and Inez using their imagination for arts & crafts: Alex making his own sailing boat with paper for the sails and the hull, pen for the mast and a whole lot of scotch to hold the sailing boat together! Inez using the leftovers of Alex's cutting the paper to do her creations.
The bigger kid on the boat showed the smaller kids how to really play lego!
More often Alex and Inez were "hänvisad" to the floor to eat their meals: less leaning and easier to hold the plate between the legs.
Playing chess or backgammon on Edvard's iPad, Alex and Inez always found their games and what to do everyday on board.
For Inez the most fun is to help Mummy with the kitchen and taking picture with Mummy's phone whenever she can.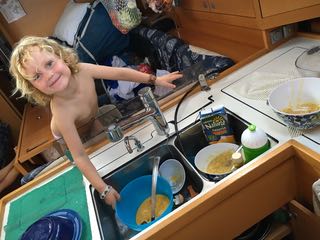 The most fun thing Alex and Inez loved to do (which sometimes really got a few on board frustrated…) was to dive into the spinnaker when coming down. Fun at some point, but irritating when trying to fold back the spinnaker in its bag.
Refurnituring the salon to their own "koja"
These moments of happiness are "oväderliga: waking up in the morning and keeping Daddy company during his watch….
… listening to Edvard's numerous exciting and fascinating stories…
… learning how to use the plotter and spot the competitor's positions…
… watching Edvard being a magician ang giving Alex and Inez a big laugh!
On the 15th of March was a big day for Alex: his first tooth ever to be wobbly. Now we are counting the days for it to come loose!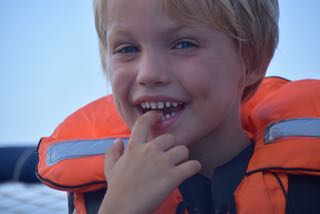 Syskonkärlek!
---