A short jump in Martinique: Grande Anse d'Arlet

Take Off
Jörgen Wennberg
Tue 24 Mar 2015 03:37
We left Dominica at 7h00 in the morning. The sea was flat and beautiful, not the slightest wind. So we motored for 2 hours having our breakfast with Dominica's West Coast as our breakfast view.
We even had some time for some reading having no wind or waves to beware of!
After 70 NM and a lovely sailing we made it to Anse d'Arlet in Martinique where we first thought of staying for 2 nights. We came in just in time for a swim and the sundowner.
We had been recommended by our Canadian friends on Morning Haze to anchor in Anse Chaudière (same bay as Anse d'Arlet) as the snorkling is very good. So we did and once again the kids got thrilled when they heard we were going snorkling = movie time! On with a movie, locked the boat and off we went. The snorkling was really good!
For lunch we went ashore although we did not bother this time to clear in as we knew we would only stay for 2 nights. But we still wanted to get a glimpse of the village so we took our chance and went ashore anyway.
We took a nice walk in the little village Anse d'Arlet and had lunch at Le Littoral. Anse d'Arlet is a quite picturesque little sleepy village.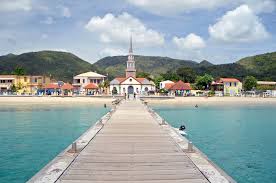 Once sitting at the restaurant with wifi (!) we checked the weather forecast. It had been a quite rainy day and the forecast predicted more rain and even thunderstorm for the day after. We had our lunch, walked back to the dinghy, came back to the boat, prepared everything as if we were to leave and at 16h00 we said why not leave now? Better avoid the bad weather when we still can. So nearly 24 hrs later we took up the anchor and sailed away South to St Lucia
---