Swimming with stingrays in Antigua

Take Off
Jörgen Wennberg
Thu 19 Feb 2015 21:40
The first morning with Mormor and Morfar showed to be Inez' third Birthday Party with her third chocolate cake!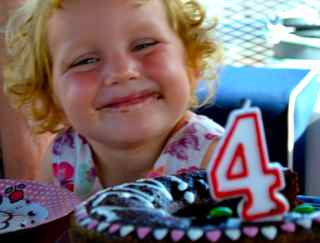 A very happy Inez for her first own handbag. Alex happy too to have some presents to open.
We hired a car and drove through Antigua choosing common spots to visit as well as a quite unusual activity… We first visited Long Bay, a beautiful white beach at the East - North East of Antigua. This looks like we are pretty alone however the beach was packed with people, so we chose to make it a quick lunch stop.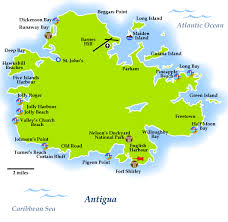 The kids enjoying Mormor and Morfars playing with them!
Then we drove further North to go swimming with stingrays. We were picked up from ashore going far away out to the ocean.
As soon as we approached the floating pontoon out on the ocean we could see all the black patches coming up to us. The stingrays knew that here comes the people with the fish and squids.
So we prepared the kids with their new mask and snorkling. They were very excited before entering the water …
… and quickly got frightened by all these huge big black jelly-like things coming up to them. Their screams said it all so Mormor was kind to take them on the pontoon. They much more preferred looking at these animals from a drier shelf ;-)
Both Jörgen, Morfar and Louise had a lovely swim with these very friendly, social and hungry stingrays!
Coming back Inez considered her bathing suit to wet to wear and her new handbag was just what she needed!
Our views on our way back.
Heavy day visiting Antigua!
For the evening we took advantage of the hired car and drove up to Shirley Hights where they had a steel band concert and BBQ on Thursdays.
The view over English Harbour was stunning and we got a glimpse of the green flash at the sundowner.
A very proud Inez over her new present.
Inez enjoying playing with Daddy and Mormor ending the day with a traditional godnatt saga.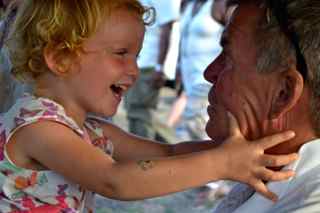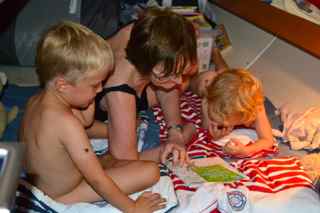 ---