Looking over Cirque de Mafate and swimming in the Bassin des Cormorans

Take Off
Jörgen Wennberg
Tue 31 Oct 2017 16:53
La Réunion has so much to offer so we are ticking off all the bits and pieces we make time to visit. This morning is a very early morning as we want to climb up to Point de vue Maïdo which looks over the Cirque de Mafate. Considering our visit from the previous day with Simone this excursion has now another meaning than just looking out. However why we had to get up so early is that the clouds quickly come in and you cannot see anything at all if coming too late. We did unfortunately get up their 30-45 min too late as the clouds were already coming in over the circus. We had to be patient as during a few minutes the clouds cleared
and we could see the villages down in the valley of the
circus.
We were at the edge of the circus looking down and it was fascinating to look at all these houses, villages and the life down there considering their non access to roads.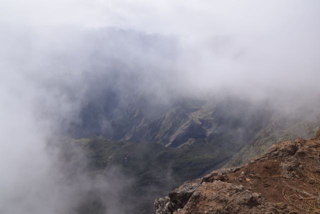 We were patient and wishing the clouds could just for a moment give us some view... and suddenly they did. Quick with the camera and look, look, look and look!
Look at the houses down there… imagine no access to roads!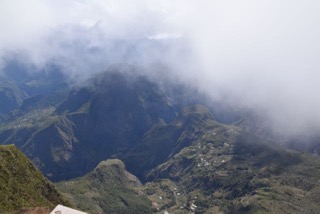 Back and fourth, back and fourth, back and fourth…. it was fascinating how the clouds made it so mysterious that every glimpse of the Cirque de Mafate become an unrevealed treasure!
… and back again to closing the view for this time.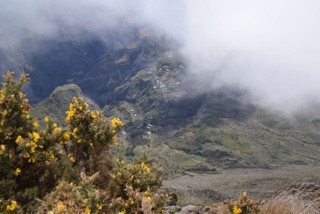 On the way down we found this old distillery for essential oils, however no more in use.
Our next stop is a more refreshing one, trying to find the
Bassin des Cormorans
. We followed this aquaduc...
… and found a less accessible path however as we knew this was the right way we passed the obstacles. Being in France, although it says you are not allowed to go further and definitely not aloud to take a swim… we know people do it anyway.
We found it… among other people, all taking a swim haha.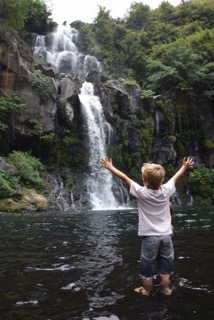 Quick change to enjoy the beauty of fresh, fresh, fresh water. Somewhat frisky but ever so nice for the skin!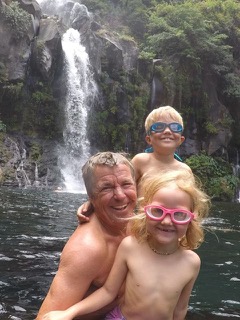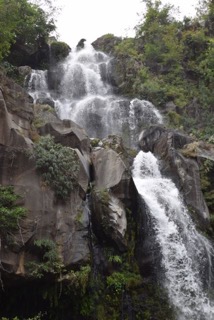 Jörgen and Louise approached the water fall really close and we guess that the pictures talk for themselves. Just imagine the sound of the water falling down. We say "öronbedövande" in Swedish. You cannot hear anything else than the sound of the waterfall. You can feel the power of mother nature just by listening to the waterfall. Always as fascinating!
The fun being over, time to go back the same forbidden way, walking through water.
---