Family BBQ

Take Off
Jörgen Wennberg
Mon 17 Nov 2014 23:46
The first of all ARC social activities these 2 weeks before the big start was for our smaller sailors and their parents. And what a wonderful evening The ARC arranged for us!! The kids were totally exhausted after jumping over an hour in the bumping castle.
So well exercised and hungry the hamburger and fries were more than welcome. And the best part was that the kids had a whole table on their own, with no parents. Wonder who were most happy about that.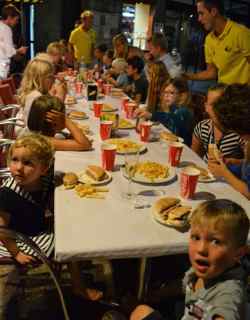 Once their stomachs were well fed with ice-cream on top, we ate a lovely BBQ dinner with the best meat and the best time-for-us-together-getting-to-know our new family neighbours on pontoon S17. Families from England, France, Germany, Canada and Denmark. It was so inspiring to listen to the familie's' different stories, what brought them out to do the ARC, for how long they have been sailing, for how long they will be sailing and what route they are planning once arrived in St Lucia. Some will be out for 6 months, some will be sailing up the East Coast of the US, some will take the Panama Canal straight after Christmas, some have already planned to sail for 2-4 years around the world and some will go with the flow and check out for how long the money will last…. this brings to the thought - you never know who you meet and what inspiration this person will bring to you as well as what you can bring to him/her. This is all very exciting and only the start of an inspiring and different adventure!
---