Our 3rd attempt to Musket Cove!

Take Off
Jörgen Wennberg
Wed 5 Jul 2017 00:46
On the 4th of July we left Denarau Marina somewhat sad, somewhat happy…. however we are finally on the move!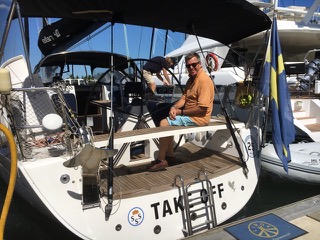 Just before we passed by a HUGE sailing boat with Stockholm (!) on it. So off course we hade too google it… and it showed to be Carl-Henric Svanberg.
And yes there were a few other boats than Take Off in Denarau Marina..
Finally hitting the sea! Off to Musket Cove.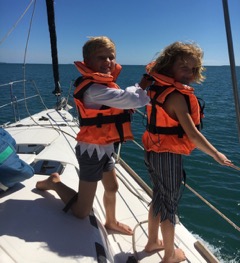 Our 3rd attempt to Musket Cove, we finally made it haha….!
Once again amazed by this beautiful island.
Late lunch at Denis Place.
Last years' memories with our friends from the World ARC 2016-2017.
Another day at school
Morning walk up the hill...
… with our friends from last year Bettina and Dirk on Ain't Fancy.
A beautiful view all the way over to Viti Levu.
And now for the traditional games at Musket Cove. Alex has chosen his kayak partner: Martin!
Alex was not very happy with the results…. however he still seemed happy to have participated!
Inez plays it safe: Daddy!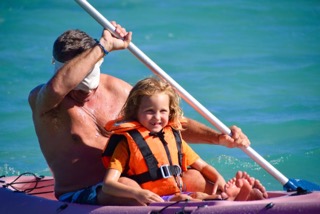 And Alex found another kayak-buddy: Jeff!
The winners all got together in the same team for "dragkampen": and they won this one too!
All the World ARC boats dressed up for Musket Cove.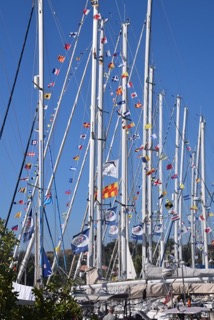 Martin, Alex and Inez helping Martin to paddle back the kayak.
Preparing for the evening: the Rendez-vous at Musket Cove.
The last Fijian dance by the beach.
Inez finding Tata Mado's 40 year old top… and loves it!
Arts & Craft : Alex and inez are doing the Dinosaure Show they are to prepare in their cabin.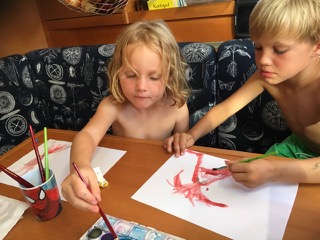 ---