Prickly Bay, George Town and Hogs Island on Grenada

Take Off
Jörgen Wennberg
Sun 4 Jan 2015 14:39
Sailing from Carriacou to Grenada was a wonderful sailing trip when we topped 13,6 knots in surfing! We sailed passed all Grenada's West Coast passing Point Saline which a marvellous experience in what nature offers in colours. All the way the sea was dark blue. As we passed Point Saline (Grenada's South West point) there was a clear distinct line where the sea changed to bright turquoise. Beautiful!
Prickly Bay on Grenada's South Coast and Prickly Bay Marina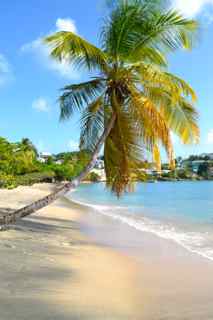 The day after we visited Grenada's Capital City George Town and it's market. We bought our first real local vegetable, those who don't go for export. This vegetable we bought is called Christophene. A mixture between cucumber and squash. Looks like a huge gren pear. You peel it, cut into cubs, boil it and served with butter, salt and pepper. Mmmm… Everywhere there is space if it is on the street, on the sidewalk or on the corner of a street you find people selling fruit, vegetables, fruit and more vegetables.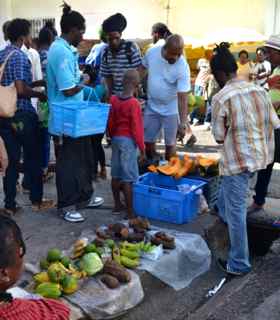 Alex and Inez happy to skip the boat for a while, running all around the market and being kids!
William, Alex and Inez in a supermarket, taking over the adults' roll. Clearly Alex being the oldest rules…
On Sunday we visited Hogs Island, South East from Prickly Bay. An island full of local people spending their Sunday eating, drinking and just hanging around. There's a bar and a stage with really good live music!
The kids found their activities…
In the evening coming back to Prickly Bay Marina we got the lovely surprise that they showed kids movie at 18.30! Perfect! We ordered pizza for all the kids …
… while we could enjoy a normal dinner among adults.
On Monday we enjoyed a lovely Girl's Night Out with Albane, Nichola and Sophy! Just Lovely! No "mummyyyy", no cooking, no dishes - just us ;-)
---