Partying at Musket Cove

Take Off
Jörgen Wennberg
Thu 7 Jul 2016 21:24
We welcomed Marie Arvidsson and Clas Müller on Fiji by telling them: sorry there will be no sailing but we will do out outmost to make your month of holiday a great memory! Luckily Marie and Clas are so humble and can easily deal with this. Feeling sad for them, as we will anyway be able to continue our sailing adventure next year, we started now to plan to best we can do for the coming 4 weeks together!
We started off by Musket Cove and our lovely friends on Alcedo of Rhyme, Sally and David, took the crew of Take Off onto Musket Cove. A beautiful day of sail motoring over to Musket Cove. And Alcedo of Rhyme is a true beautiful boat!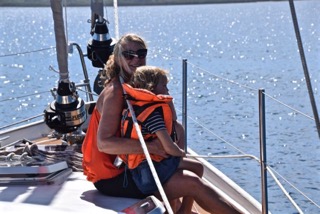 We felt very welcome to Musket Cove!
The first evening the World ARC fleet was invited by the Marina of Musket Cove for a welcoming party.
We woke up the day after to lovely view over Musket Cove.
This morning the World ARC had organised games at the beach. Jörgen who had to go back and continue the damage reparation procedure, we took the chance with Alex and Inez to have fun with the big ones! The first game was for the "fordecker" to navigate the steering one who is blindfolded. So Sam and Alex took the challenge together. Instead of saying left or right, Alex pinched Sams right o let toe to tell him where to steer.
Jasmine on Meermöwe supporting the teams.
The next game was to run down the bottles in one way and make them stand up again on the other way! Great fun and the kids being smaller were pretty quick!
And now for the tug of war ! Off course the kids wanted to be part of… at least at first!
Quickly both gave up...
And now for more games!
In the afternoon we got our biggest lovely surprise ….finally meet up again with our friends Daniel, Cécile and Raphaël on Heidi! It was a true pleasure to see them again after 21/2 months when we left them in Papeete.
Preparing for the very last feast together with our World ARC family.
This is our very last dinner with the fleet of World ARC 2015-2016. Sad, sad, sad however new adventure are waiting for us!
Dearbla, Laura and Sylvia. John, David and Sally
Janna.
Andy and his wife on Into the Blue with Belafonte. Kathrine, Sam, Josh and Laura.
Pia and Erik on Spirit. Mary Beth and Mike on Paradise Found and Claudine and Bryan on Wishanger.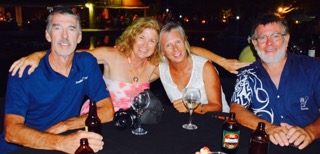 Into the Blue.
And now for the Price Giving Ceremony. Sylvia got the Farewell plaque for Chili Bee leaving the fleet. As well as Heidi. As well as Take Off!
The whole World ARC family!
Sheila with Inez. Cécile and Louise.
Jukka, Jaana, Erik, Pia and Pekka.
The youngsters of the fleet.
Steve and Kate on Blue Summit. The crew of Alcedo of Rhyme.
The crew of Aliena.
Ellen, Kathrine and Ellen. Alex loving being with the "big girls".
Our last Fijian entertainment dancing!
---