Our next destination in the Marquesas - Nuku Hiva

Take Off
Jörgen Wennberg
Fri 1 Apr 2016 00:21
On the 31rst of March we left Tahuata to sail up North to Nuku Hiva. We left late in the afternoon together with Heidi, Do Over, Belanfonte, Barbara Jean and Mystique Soul. We did not want to leave to early risking to arrive in Nuku Hiva while still being dark. We thought we had planned this pretty well however we were faster (yes we manage to always be in a racing mood!) than we thought and saw Nuku Hiva already at 5h00 in the morning. Still 1h30mn before sun dawn. So we continued our sailing around the West coast of the island, sailing more upwind and trying to keep the boat more or less slowly driving us forward. By sun dawn we came back into the Bay of Taoihae and could anchor in daylight.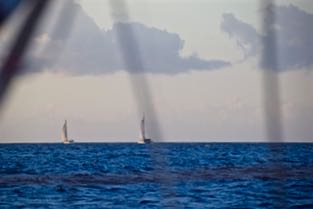 This day was the 1rst of April and the joke of the day was that the rain was pouring all day! We managed to get of the boat on time, however once at shore we were stuck here with buckets of water from the sky all day!
On this first picture below you can see the water is dripping as in a river from the pier down into the sea! The kids found this really fun and off course run out in the rain coming back soaking wet. With no clothes to change, Daz on Waterman lend them his rain coat so they played together the rest of the afternoon in this coat!
Luckily by the pier there was this restaurant under a tent with good (!) wifi and possibility to charge our computers. They served very good lunch and everyone took the chance to catch up news from outside the fleet.
---