Alex's 8th Birthday Party

Take Off
Jörgen Wennberg
Thu 21 Sep 2017 18:24
Having no kids of his age, Alex invited the whole World Arc Fleet to his Birthday Party. He made himself all the birthday invitations and passed them on to all the boats during the day.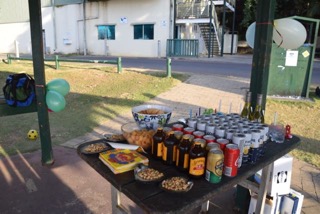 An 8 year old boy waiting for the first guests to arrive…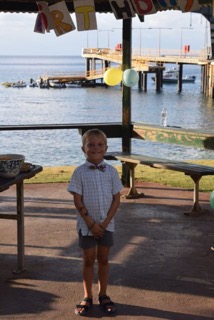 On this special day everything is aloud: coke, sweets, chips….happy boy!
Beautiful sunset light while waiting for the guests to arrive.
The guests are arriving!
Dan and Em on Skyelark and the Russians Andreij and his 3 (!) Sergej on Arabela. These guys were not shy when giving their birthday present. Alex received a kalashnikov knife!
Daddy is the game leader and arranged all sorts of games for everyone.
Alex, Inez, Bob on Lexington and Bill on Owl going for the football.
Many people came with nice presents. Val from Tulla Mhor, Barbara from Altair and Eileen from Aurora as well Alex's "extra daddy" Lasse and Anne from Sandvita came with a very well appreciated present!
A nice evening with games and socialising.
Lars on Sandvita, Gottfried on Hanna, Dugald on Tulla Mhor and Dan on Skyelark. Val on Tulla Mhor, Anne on Sandvita and Eileen on Aurora.
Bianca on Zeeland is always very generous and thoughtful.
And the games continue!
Time for the Birthday Cake and Birthday Song!
Gottfried having his birthday the day after we sang for him too!
After the Birthday Party the Tourist Office of Christmas Island had organised a BBQ for all of us. We all had a very pleasant evening together.
---