The new spreader

Take Off
Jörgen Wennberg
Fri 3 Nov 2017 17:47
Before arriving in La Réunion, once we had left Mauritius, out at sea we contacted our onshore team in Sweden, Mats Runström to help us order a new spreader from Seldén in Sweden. However we could not be sure it would arrive on time before we were to leave from La Réunion on the 4th of November. Therefore when we came into Réunion on Friday the 27th of October at approx 11h00, the very first thing Jörgen did was to contact Seldénin France through their agent in Le Port, the marina where we were berthed. As we were now in France we thought that the quickest way to get a new spreader was through an agent in France. We were lucky to get hold of them on time before they closed for the week-end, however it showed to be that there were closing for a whole week (Autumn leave)! And we were to stay in La Reunion only for a week. The third attempt was to ask the welding lady (!) in the marina to meld the broken one. Surely one of these attempts would secure a new spreader to be working.
The welding lady did a great job in melding the broken spreader, which she did during the week we were in the marina. This felt safe, however we were still looking forward to receiving the new spreader ordered from Seldén.
Tuesday 31st of October the spreader from Seldén in France arrived in La Réunion! Yeah…. we thought… Wednesday 1st of November was a bank holiday. Everything was closed. We now had only 2 more days to receive the new spreader as we were to leave on Saturday 4th of November. Thursday 2nd of November, the spreader from Seldén in Sweden arrived in Réunion. However we had nothing delivered to the boat. We were told that both spreaders were stuck in the customs… ?!? We can understand that the one sent from Sweden was stuck at the customs, but the one sent from France and we are in France?? French regulations requires than anything shipped from outside of Réunion has to go through customs and they were not particularly cooperating. Luckily we had Seldén's agent in the marina helping us out (however he had to make several several calls) and on Friday 3rd of November at 16h30 (really last last minute), a parcel was delivered to us. We received 3 (!) spreaders haha…. a pair (2 spreaders) from Seldén in France and one spreader from Seldén in Sweden.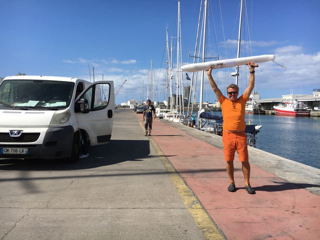 So now we have 4 spreaders: one repaired, a pair from France and one form Sweden. You never know when we might need the other ones haha… you will see…
It was still day light so Jörgen could fix the new spreader before our departure being due for tomorrow….
Fixed!
Our last evening in La Réunion. Thank you for this time!
---