Wallilabou on St Vincent

Take Off
Jörgen Wennberg
Thu 22 Jan 2015 21:39
After our dives in St Vincent we continued North to Wallilabou mostly known for being the place where Pirates of the Caribbean was filmed in 2004. A small town where the coulisse of the movie still remains and you can tell that the town has long along ago seen its glory days. However Disney has left many traces to be read and remembered, so definitely worth the visit!
The entrance of Wallilabou, guess you recognise the cliff on its own to the left of the left picture.
Wallilabou
We think Jörgen had the most fun!
The actual mast Johnny Depp was climbing on when his ship sank.
In this house above built from the ground for the movie was a museum. We could even take part of all the movie's script!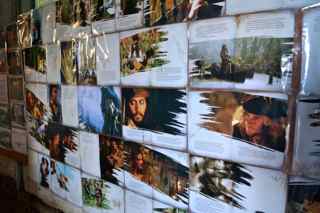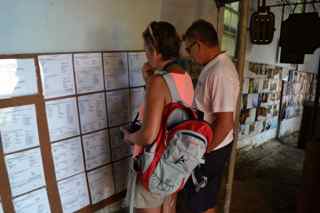 Take Off in the bay of Wallilabou and Alex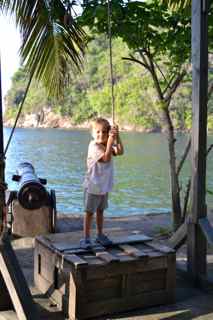 The kids loved the accessories - the pirate and the princess
Nearby all the accessories there was a movie room with an old sheet as a screen.
A well worth bath in Wallilabou
Asta jumping from Chili - Alex very impressed! All 4: Alex, Gustav, Inez and Asta watching sea life
In the evening we grilled our lobsters and fried the fish on Chili
Asta and Inez.
Gustav and Alex.
A lovely dinner with the Danish catamaran Chili: Anders, Tina, Signe, Gustav and Asta.
In the morning Anders came along with "our" coffee. We have a Nespresso machine on board but no 220V (yes we can only use it when moored in a marina). Chili has also a Nespresso machine and 220V in the boat, however out of coffee capsules. So we gave them a bunch of coffee capsules and we did get a surprise when Anders dingied over with newly fresh coffee ;-)!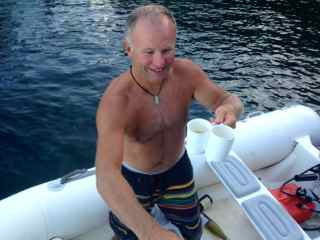 ---