The vibrant city of Salvador

Take Off
Jörgen Wennberg
Sun 4 Feb 2018 00:00
SALVADOR
Founded in 1549 on a small peninsula that separates Todos os Santos Bay from the Atlantic Ocean on the northeast coast of Brazil, Salvador de Bahia became
Portuguese America's first capital
and remained so until 1763. Its founding and historic role as colonial capital associate it with the theme of world exploration.
As soon as we had arrived in Salvador, Henri, Louise & Inez went to hospital as during the last 3 days of our sailing Henrik had developed some strange rashes with the skin turning yellow, orange and purple. Why bring Inez? Because we thought her Portuguese would help us Brasilians speak absolutely NO English! His visit showed to be ear infection and a parasite so he got 2 antibiotics just to be safe.
Two days before coming into Brasil, Inez had finished all her year CP (Cours Préparatoire), year one 👍. Check !
Having our first lunch on land at Mercado Modelo
And now for the cleaning of the boat. Everyone participated…in their own way.
On Saturday the 3rd of February we got a guided tour of Salvador with José.
José explains that some stones used for buildings included some fossils from the sea.
Salvador being a very colourful city
Ordering our "sand bottle" too with the inscription of Take Off
Igreja Sao Franciso - The Church of Sao Francisco
Lunch at Cantinha de Lua
Visiting the place where Michael Jackson recorded his video "They don't really care about us". There was music and bands playing all the time in the streets. A recall that Carnival is soon approaching? The city was vibrating everywhere we set our feet. Amazing!
The Michael Jackson Place
Taking an afternoon drink and being entertained by….? He was really funny!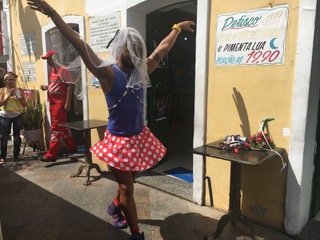 Salvador getting ready for the upcoming Carnival
We did a little treat for ourselves being here in Brasil. Inez' braids did not hold very long!
On Sunday 4th of February, World ARC organised together with the Marina an amazing Price Giving Ceremony with music & dancing. We all made sure to dress our boats.
The Chief of the Marina welcoming us to his Marina.
All ladies dressed up in their traditional costumes. Must be seriously awfully hot!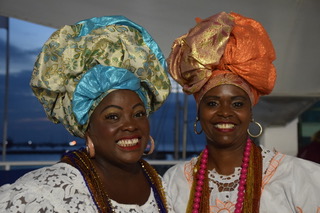 Enjoying our drink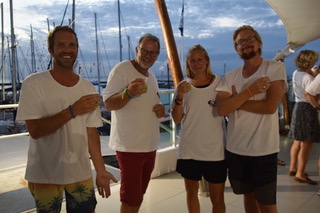 and Alex hoping for a prize?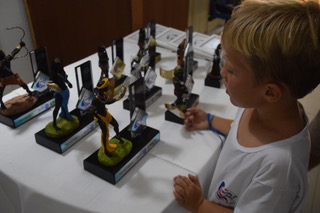 Now for the Capoeira Dancing
Congratulations for Owl winning this leg!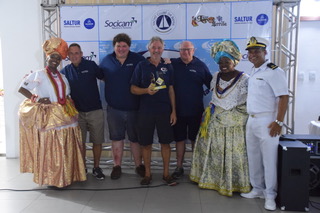 Someone having fun with Daddy
And more dancing coming upp. Jörgen taking the initiative to go dancing with them, followed by many more.
And followed by Louise too
And Inez!
More dancing and music!
Good Morning in Salvador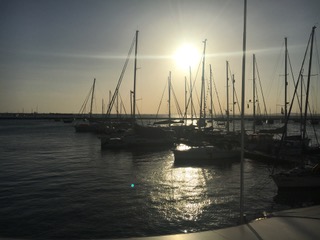 Night in Salvador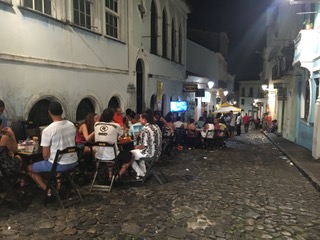 By the end of our stay in Salvador we hired a car and drove to Igreja Nosso Senhor de Bonfim.
The ribbons have a long complicated story that traces back to 1745 and the Church of Bonfim. This church quickly became famous for it's power to heal and cure. People flocked to the church to pray and would often tie a ribbon, originally around their neck, to remind them of the healing their faith had provided and to help them stay healthy and strong.
We took a swim nearby
Did the traditional stuff and "hired" chairs & a parasol
And had ice-cream off course.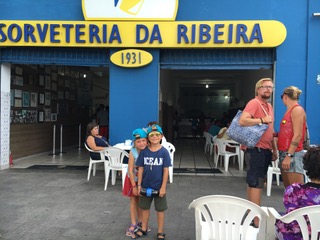 Our walks from the marina up to the Old City of Salvador
An amazing experience in Salvador was the Brasilians teaching Capoeira to Alex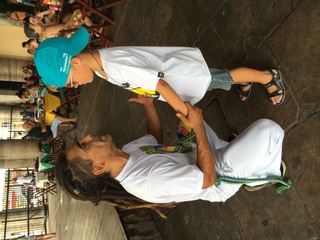 Not knowing that Capoeira would be one of Alex & Inez favourite sports in their new school upon arrival back home in September 2018 😊
Now Jörgen's turn!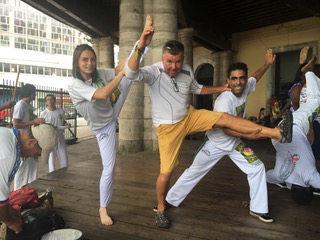 One of our last evenings in Salvador. Inez have a chat with Karen on "Lexington"
---