World ARC Tour to the Imofolozi National Park

Take Off
Jörgen Wennberg
Thu 16 Nov 2017 12:04
The day after we were privileged to be get on the World ARC Tour at the Hluhluwe-Imfolozi Game Reserve, being South Africa's oldest game reserve. Our third day in South Africa we are already doing our second safari.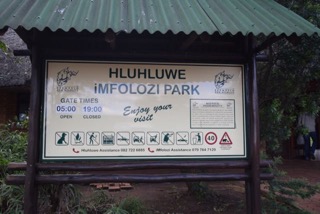 The boats who arrived earlier into Richard's Bay did this tour 2 days ago in a heat they said that was nearly umbearable. They had to find shadow wherever they were and drink lots and lots and lots of water. Well as the bad weather came into Richard's Bay, it also brought the extremely cold weather. As we are sitting in an open jeep, higher than the driver so that we can have a better view… with the cold and rainy weather it felt like sitting in a skichair lift for 4 hours! It was cold.
Our lovey and passionate guide and the jeep with open windows. Luckily they had blankets in the car, so this weather cannot be so unusual.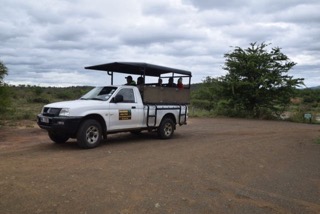 We entered the park and were fascinated by the width of the nature and the landscape that never ended.
We stopped at the Rhino centre where they work hard on saving rhinos from extinction due to the poching industry (where the rhino's horn is cut off leaving the animal to bleed to death). It's a terrible industry where lots of money is involved. Some Asian believe that the keratin in the horn is very potential and so the horn is pulverised and sold for a tremendous amount of money / g.
We started our tour by finding the Impalas, however they are not unique as they are everywhere.
The impalas are like our deers in Europe. You can find their meat in any restaurant and even Mc Donald's! This is why they are also called Impala burgers, which you can tell by their "M" om their but! In the picture above to the right, one can see how the impala in the foreground is having the "watch". While the other impalas are peacefully eating their grass, this one is spying over the headlands in order to check out for any predators.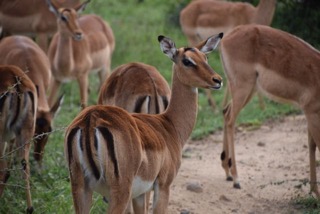 We saw them many times very close to the vehicle.
These two males are sorting out something, however it was very short and then they both seemed to be friends again.
The male impala
Often we saw impalas together with zebras. They seemed to appreciate one and other's company as well as sharing the watch system.
v
We are enjoying everything we see and can just laugh about the extreme cold weather that has come over the Eastern Cape.
Sam & Karen from Lexington
Before lunch we managed to see a whole herd of buffalos in the far distance.
We stopped at this camp to have lunch and ...
...yes this was cold too considering that the lunch was outside. 2 days ago it must have been a true pleasure, today it was a bit different. The cold was primarily due to the cold wind. The driver were at least smart, they parked the cars so that we could have some shelter from the wind.
At the camp were a few "tamed" wild animals, such as the kudu and the warthog.
… and these beautiful animals. Sorry, no name for this one.
Bob from Lexington walking around with some other wild animals….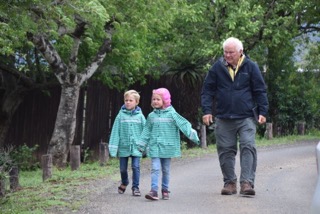 The cold did not prevent these two from appreciating an ice-cream!
Just outside of the camp as we left to continue our tour, a family of warthog crossed our path.
We could see that they were joining "Daddy" who sat just beside our car. It looked quite impressive and we must admit that they are probably not one of the most beautiful creatures in South Africa, however very fascinating with all their horns sticking out.
In the afternoon we were fortunate to be close to rhinos. It was a mother with its baby. Amazing how close they were!
We are now even more lucky as behind the rhinos in the far distance in the bushes we could distinguish lions! A male and a female.
We continued further at stopped by a river where we saw these cute apes.
The dung beetle is an interesting creature.
Dung beetles
are
beetles
that
feed partly or exclusively
on
dung. A dung beetle can bury dung 250 times heavier than itself in one day.
Many dung beetles, known as
rollers
, roll dung into round balls, which are used as a food source or breeding chambers.
This Alex thought disgusting. Only 30 min later we heard Inez screaming her head off like if she was being killed!…. a dung beetle had flown into our car which Anne saw, so instantly she lowered her head and behind sat Inez. Inez had just got the dung beetle flying right on to her cheek! Yes we had a good laugh aftwards.
The zebras are really beautiful animals. and we managed to see plenty of them!
Alex and the zebras
A short stop
More wild beests...
...and a mama warthog with her babies.
Enjoying more of the landscape
A cold however very enjoyable safari!
On our way home, the sun came and we bought lovely pineapples from this lady having her store just by the motorway. A sight we would never see in our so well arranged and protected Europe..
Coming back to the marina, we saw the amount of waves coming into the marina due to the storm. Today the marina was closed, meaning that they did not allow anyone to leave the harbour.
Alex finding a new friend in Daniel and Inez in Michelle. Two lovely kids from the UK sailing on a catamaran their parents bought as a dream to charter in the Seychelles.
---