Arriving in Galapagos, San Cristobal

Take Off
Jörgen Wennberg
Wed 17 Feb 2016 01:19
0.52 S
89.37 W
On the 17th of February at 05h47 we passed the finishing line after having motored for 21h01mn! The wind never came back after passing the Equator and we motored our way through the Dold Drums and all the way into Galapagos. Happy to finally arrive in Galapagos!
We arrived in the island of San Cristobal, being one of the most easterly islands of the Galapagos.
The Galapagos Islands are a special stopover. Ever since the work of Charles Darwin the islands have been well noted for their contribution to the understanding of evolution and in the present day, there are many examples of flora, fauna and saline to be appreciated.
However, with the island's prominence, they are at risk of exploitation by visitors and indeed those who seek to earn a living here. Accordingly, there are many protection measures in place to try and control human interference into the natural habitat and these can make it difficult to work the best way to appreciate the islands. This is where sailing with the World ARC makes the visit of these islands by yacht so much easier. They take care of all the administration!
Coming into the harbour of Puerto Barquerizo on San Cristobal we were welcomed by …. a sea lion!
We came in as the third boat (however it is not the end result) and we welcomed our friends on Heidi coming in as fourth boat only a few hours after us.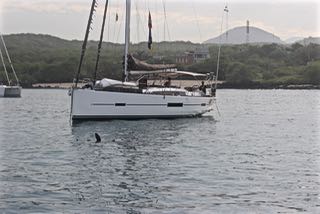 When we arrived we called Rally Control to confirm our arrival and await for the "armada" of people coming to register, inspect and check-in our boat. We were not allowed to leave the boat before all the procedure was done. We got this list below in La Perlas in order to know what we were aloud on board and not. Most are fruits that are not allowed, however even fresh and pasteurised milk, fresh cheese and fermented milk (yoghurt) are not allowed to have opened on board. We ate and threw everything we did not manage to finish on time, except from a new milk pack that we had just opened by mistake….?!
So the armada of 12 (!) people came on board, in 2 groups: police, immigration, customs, a person with an insect vacuum cleaner, tourist office and 2 divers. In total we had 15 people inspecting our boat. Jörgen welcomed everyone with coffee and asked who wanted milk…. Most of the inspectors answered "yes please". So much for the forbidden milk! After the filling in of all differents forms they wanted to go through our fridge, our medication, etc… Jörgen started by showing our medication as we have a printed list of what every medication is for. When the inspector saw our well organised list he looked at the fridge and did not bother to open it... All were very nice people, friendly and curious.
We were also obliged to put up these signs as below (you would expect this to be obvious for anyone!) and also show how we sort out our garbage: metal, organic and plastic in different bags. Unfortunately not even Galapagos is an exception how they sort their garbage out. We happen to see how they deal with the garbage and as for any tourist place, everything goes in one garbage holding anyway….. Quite sad to see when they do have ambitions to seriously take care of their environment. However they are far ahead than any other place, but we would have thought they would live up more to their rules and especially their image.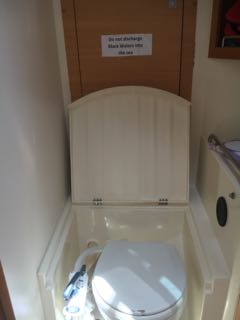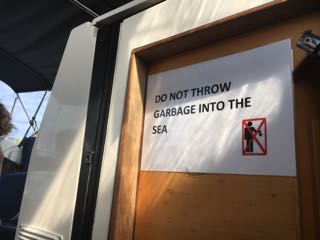 When the divers had inspected our hull, we were acknowledged and they found our hull clean clean clean! In fact there was one boat, the Finnish boat that had to leave the same afternoon and clean the hull again from 8 barnacles (sjötulpaner) they found on the hull, at 70 miles from shore! That meant coming back the next day. Puh… we made it!
Once all the clearance was done we took a boat taxi and went shore. This was our first sight, just like we expected it to be. They are absolutely everywhere!
BILD PÅ SJÖLEJON PÅ TRAPPAN
Inez 4 years and 364 days
Puerto Baquerizo is a very pretty village with a few hotels, restaurants, hostels, shops and plenty of diving shops and tour operators.
---