A few catching up days in Savusavu

Take Off
Jörgen Wennberg
Mon 20 Jun 2016 08:18
Taveuni being a beautiful place in Fiji we still had to head off to Savusavu for diesel, water, food and wifi!
A nice day sailing we arrived in Savusavu in the afternoon.
Amazing how these afternoon sailings are always a given rocking the boat for the kids, haha!
Savusavu
is the major town on the island Vanua Levu, situated on the South coast, and has
a
population
of 3,372 in the 2007.
It was a quite nice stop as we needed to get our facilities fixed.
The Market for all fruits and vegetables and the store for the rest of the provisioning. It is here we also bought the cava we needed as a present for the Chief of the village, anywhere we want to anchor.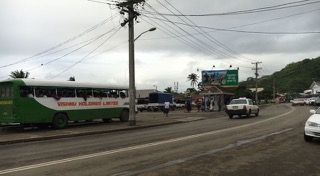 The kids discovering "Fem Myron är fler än Fyra Elefanter". And they love it!!
After 2 days we left together with Chili Bee to go off sailing towards the Yasawa islands.
---