Visiting the Gatun Locks of the Panama Canal

Take Off
Jörgen Wennberg
Sun 31 Jan 2016 04:24
9.15 N
79.54 W
By noon on the 29th of January we arrived in Shelter Bay Marina which is situated in the Canal's approaches. Until 1999, the area was the site of Fort Sherman, a US Army base, but it has now undergone substantial redevelopment as a well serviced marina. The marina enjoys too the nice surroundings of the San Lorenzo National Park. We went for a few mornings, early before sunrise, to get a look at all the hundreds of apes climbing in the trees. We even managed to see sloths, "scengångare" with its baby, which is very rare. And we waited long enough to see it move!
The first day we visited the Gatun Locks, on the Caribbean Sea. This was a great experience and unbelievable to see these huge boats going through this narrow canal with probably a few decimeters on each side. Quite amazing!
We climbed up the stairs realising it was the first lock we climbed… and suddenly we saw this huge boat being towed by 2 small trains. Quite impressive!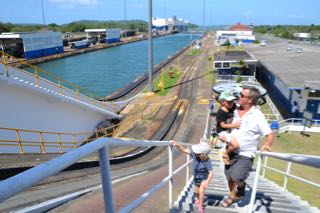 The boat never stopped to end… getting bigger and bigger and bigger...
Heavily charged you wonder where all these goods come from and where in the world and in which homes they are going to end up in?
The next ships standing on line for their turn.
Everyone, big as small, old as young, were amazed! What an entertainment!
On this ship we saw 3 workers taking a brake and enjoying the Transit through the Canal waving to all us visitors on land.
Same here...
Sometimes you don't want to see everything… yes it is as most people say, some containers do fall off the boat. We saw in between the containers, some not quite secured...
The first boat we saw is now being released into the Caribbean Sea, this one is doing its last lock and the next one is on turn.
Our great guide gave us a few fun facts:
- the Canal has been running every day since 1914: 24h / 24h 7 days a week all year round, non-stop
- 10 000 employees working on 3 shifts
- 35 boats approx per day, which makes 14 000 boats a year
- one day they managed to pass through 60 boats!
- 3 locks on the Caribbean side and 3 locks on the Pacific side with the Gatun Lake in the middle.
- the Canal takes approx 17 hours to pass, to pass through Cape Horn on South America will take an extra month.
What restrains to pass more boats is the water level. If there is not enough water on one side, they have to wait for the rain and the river's water coming from the mountains to fill up the lake. The day they managed to pass 60 boats, they noticed the water level being high so they worked extra hard that day to pass as many boats as they could.
Alex and Inez enjoying the Canal.
The country of Panama is literally divided in 2 by the Canal. When you pass from North-South and South-North you have to drive through the Canal. Instead of waiting for a bridge to close as we are normally used to, here you have to wait for a lock to close.
Once we came back home to our boat we got this lovely sight: our spare boom being transported all the way from Sweden to Panama! And it worked!
This afternoon we went loose on provisioning, some cans and packaged of milk being accounted all the way to the French Polynesia.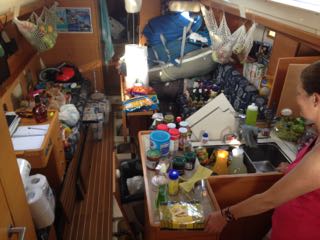 Party on Take Off!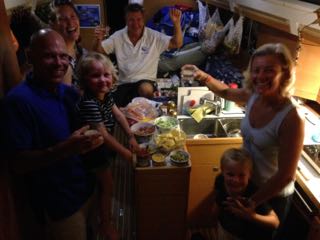 ---