Skipper's Briefing and Prize Giving Ceremony at Zululand Yacht Club

Take Off
Jörgen Wennberg
Fri 17 Nov 2017 15:15
Natasha Wolmarans is a lovely lady working voluntarily for the Yacht Club and is responsible for all the entertainment at the club. The World ARC arriving at the Zululand Yacht Club is always a big happening and Natasha really made sure to make this evening a very memorable one for all of us.



Natasha started by arranging a recognition of her own. First out was the Russians for their great ability in partying!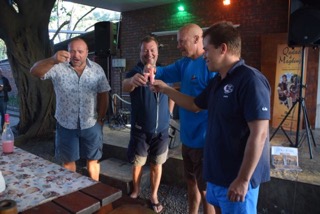 Second was Jeff on Altair for being such a good mate!
The evening continued in a lovely and cheering atmosphere. Here we have Dugald (Tulla Mhor), Niklas and Lars (Sandvita), Joe and Jeff (Altair) and Jörgen.
Louise with Gary (Sandvita) and Barbara (Altair). Second picture: Edwin (Zeeland), Nicole & Armin (Ashia) and Thomas & Jasmine (Toujours Belle).
Another really fun activity is the spitting competition: meaning spitting dried impala poo. It is exactly what it is. We got these small balls, looking more like balls with very dried grass, however it was dried poo. We put them in our mouth and the one that spat the furthest won a cooking pot with Zuluand Yacht Club's logo on it. We had never imagined that we would experience such an odd and fun activity. Victor (yellow shirt) won among the men and Anne (Sandvita) won among the women. Gary won the impala fur skin.
After the welcoming drinks we were shown a marvellous zulu dancing show with zulu music.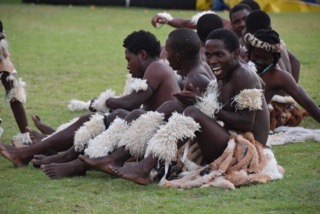 Alex and Inez were fascinated by these dancers.
It seemed like to prove that they are strong and good dancers they had to swing their legs straight up in the air. Seems quite challenging!
And now came what we always dread… "Now it's your turn" turning towards us the spectators. So we did!
First out was Louise who was probably not as souple as the young dancers…
… or shall we blame on the dress?
Next is Barbara (Altair) and ..
.. Eileen (Aurora) who really managed to do the same as they young dancers!
We all danced together
Later on we were invited for dinner by Zululand Yacht Club together with quite many other "important": Manager of the Tourist Office, the Mayor of town, etc… and these beautiful ladies in the their traditntal Zulu costumes.
A great dinner in our honour!
The Harbour Master welcoming all the guests as well as Victor (our yellow shirt) welcoming especially the World ARC sailors. The Harbour Master gave a special recognition. Usually when we meet sailors telling them that we sail the World ARC we get the reaction that we do it the easy way as all the administration is organised. He also pinpointed that we are not always welcome among other sailors as take a lot space. However in his opinion it is a big challenge to sail the World ARC as we have a tight schedule and that it cannot be easy to follow the itinerary in such a quick pace as well as follow the speed of the different boats.
Different prizes are delivered to Andrey on Arabela, Bianca and Edwin on Zeeland...
… and Gottfried and Thomas on Hanna.
Once again we came FIRST! We came in a whole day after everyone else, however the first place is due to the fact that we used our engine the least.
We found this outside the Club's bar. We got the message!
The evening ended with a great band playing Zulu music. Off course we bought their CD.
---