The day after: a normal day in the Caribbean Sea

Take Off
Jörgen Wennberg
Tue 12 Jan 2016 12:09
12.51 N
68.40 W
The day after we are all back on track again, gettting back to our rhythm in our shifts and routines and following the trade winds. Today the winds were pretty good so the spinnaker went up giving us straight away 2 more knots of speed!
Too hot today to do the schooling in the cockpit.
As a real treat Ellen made us the best brownies ever! So appreciated. Amazing how small things, like a chocolate cake, can lighten up the day.
And for the sundowner a game of chess.
After a few days of "Please Daddy, Please Daddy can we also sail the boat without you holding? Please…..?"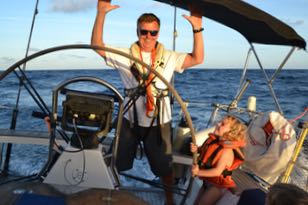 First sight of land! The island of Curaçao north of Venezuela. Later on at night we had to gybe for Aruba and then head off to the Peninsula de la Guajira
Before the night we took down the spinnaker and found a few wholes to repair. Great team Pernilla and Ellen.
The ladies shower late at night !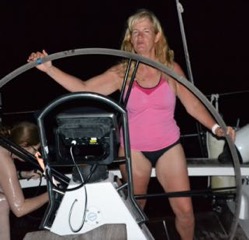 Dawn again, time for our real motor, the spinnaker, to come up earlier so we can gain more speed earlier.
This sight is not a usual sight, the genua and the spinnaker up on the same time. With no mail sail and wanting to get into port as quick as possible, why not?
---