Roseau in Dominica

Take Off
Jörgen Wennberg
Tue 3 Feb 2015 22:46
Once we had taken our sundowner in St Pierre on Martinique after our long sightseeing day on the North of Martinique we suddenly realised that only a few boat length away behind us we could see anchored our Dutch friends on their catamaran "99 Bottles"!! How happy we and the kids were of the unplanned set up ;-)! Hop we jumped in our dinghy and enjoyed a second sundowner on 99 Bottles that lasted till late….
A warm welcome-back-lovely-to-see-you-again! Alez & Inez with Roel.
"99 Bottles had also planned just like us to leave for Dominica the next morning so we had "sail company" to Dominica together with a third boat Interlude.
The day after we took a long walk in Roseau which is the Capital of Dominica. Our first sight coming into land was this statue symbolising the end of slavery.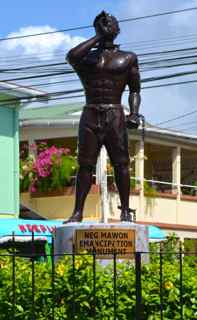 This day was a hot day in Dominica. The kids taking a sip of water in a supermarket.
We had a very nice walk along the streets of Roseau taking in the atmosphere, the people, the architecture, the streets… lovely! The houses are in all colours from bright green to flashing pink.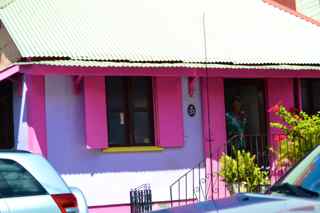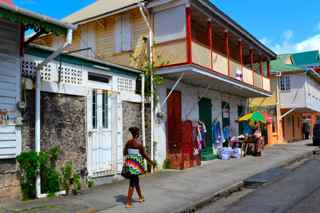 The balconies are typical for nearly the whole West Indies, except of the French islands. They are called Gingerbread.
Lunch stop at Hotel Fort Young before heading back to the boat…
…with a view over the bay.
In 2007 a whale had lost its way and was found on the beach nearby Roseau. They made a sort of museum out of it. Interesting and informative, great for the kids!
On our way back to the boat.
Dominica is a quite poor country however on the country is on its way up thanks to a wise Prime Minister who is very popular and does lots of good to the people. Although the country is poor we never felt threatened, frightened, akward or misplaced which shows people are in harmony and are genuinely open to tourists and sailors without being pushy, rude och taking for granted that we fill their pockets. This makes us off course more curious about the people, how they live, understand their standard of living and their culture.
Happy Alex and Happy Jörgen!
We sailed together with 99 Bottles further North to catch up with Morning Haze (Canadian Boat) in Portsmouth, North part of Dominica. We hadn't seen Morning Haze since Christmas in Rodney Bay in St Lucia so the lovely-seing-you-again was so warm and welcoming! All the adults as well as all the kids were as happy! We immediately jumped into our dinghy, hoped over to Morning Haze and 99 Bottles joining too just in time for the sundowner which this evening also lasted till late… to the extent that we "forgot" to have dinner, ha, ha! Luckily Rebecca on Morning Haze being wise cooked pasta for all the kids.
All 8 kids enjoying the pasta dinner: Pieter, Dirk, Demi, Inez, Rebecca, Noor, Alex and Roel.
While we were as happy with our looooong sundowner…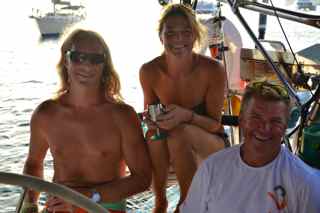 … tilll late at night!
---