Dinner at the Township Mzansi in Langa

Take Off
Jörgen Wennberg
Sat 23 Dec 2017 12:00
Starting this day with the bracelet fabrique. Alex & Inez, with Tonton Freddy's idea got many orders from the staff from Volvo Ocean Race to do "Sailor's bracelets". A true & fun success! The kids have done the bracelets, now it's for the backstage staff Daddy, big brother Henrik and Tonton Freddy to help Alex & Inez finish off closing the bracelets.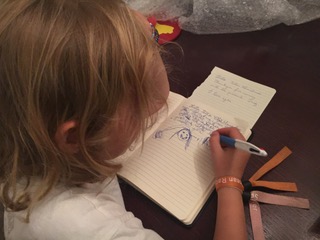 Lunch at San Marco where Inez lost yet another tooth! In total 3 in the front, calling her now "Gluggnisse"
Leaving Melbrooksstrand going South towards Cape Town, meeting a surfer on a skateboard. Quite hilarious.
Dinner at the Township Mzansi picking up Jörgen's sister Astrid and Jan on the way from the airport to Mzansi.
Mzansi Restaurant is an African Restaurant in Langa, situated 15 KM from the centre of Cape Town City. It is operated and owned by a local South African couple, Nomonde and Vukile Siyaka. Officially opened in 2008, Mzansi serves delicious traditional African meals and cuisine that showcase the country's diverse cultures and tastes. It also offers a multiple cultural activities: customers can listen to the African Marimba band play-ing Indigenous, pop, and jazz music while learning the local dance. Nomonde also shares with all of her guests the powerful story behind the restaurant and her family. It all began in the living room of her own house. Since then, Nomonde as grown her restaurant to other areas of her house, but where we sit eating is still in her living room.
Langa: The "Soweto of Cape Town," Langa is Cape Town's oldest township and was a centre of the Anti-Apartheid Movement. Strategically located between the city and Cape Town International Airport, Langa is a vibrant and growing community, home to TV actors Timmy Kwebulana and Thoko Ntshinga, and great musicians such as the Ngcukana brothers, Ncediwe Kwebulana, and Louis Moholo. Mzansi is located on the historic Harlem Street.The restaurant focuses on social responsibility by aiming to uplift the standard of living in Langa through partnerships with a minimum of 8 various local service providers for food & entertainment.
Before dinner we paid a visit to the artist at the back, painting with glue and coloured sand.
The artist showed Inez how to do. First glue, then the coloured sand.
Voilà!
Alex turn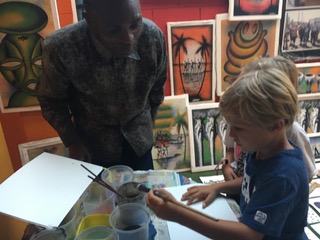 A wonderful dinner, delicious food and listening to Nomonde's story, how she came up with the idea of opening up her home as a restaurant. After a few years, she was awarded the best award from Tripadvisor, allowing her to buy her first mobile phone.
During dinner we got lovely entertainment from Nominee's nieces
Thankyou for this fantastic evening together!
---