The little and cool island of Nevis

Take Off
Jörgen Wennberg
Tue 17 Mar 2015 03:35
We left St Kitts in the afternoon for Nevis in order to visit our friends on Morning Haze for their last night in Nevis before their way up North.
We met them at the Sunshine's Bar - THE place on the beach in Nevis. We even got the privilege to meet up once again with Elisabet and Karl-Axel on Spray!
Alex & Inez so happy to see Rebecca & Demi again ;-)! Sunshine Bar has it all: bar with great rum punch, swings and trampolin for the kids (!!!), very comfortable soffas and an excellent restaurant.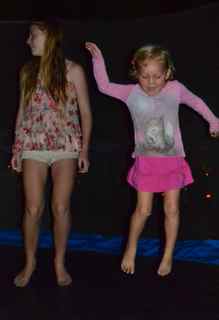 We decided to have our last dinner with Dave, Isabelle, Rebecca & Dave at Sunshine's Bar. A lovely evening with the both families together! Tearful moments when we left each other for… this time!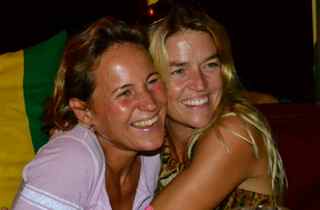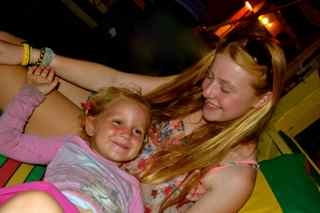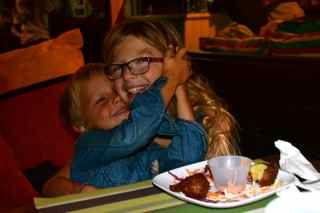 The day after Isabelle, Dave, Rebecca & Demi came and said farewell. A moment later they "sailed away good-bye" passing Take Off. It was a nice and honourable sortie!
The view over the volcano Nevis Peak from Take Off. Many make the resemblance of the volcano to a sombrero!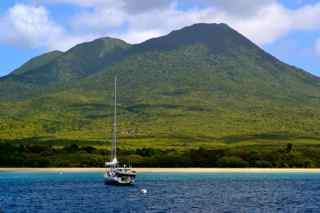 Behind Take Off you can see St Kitts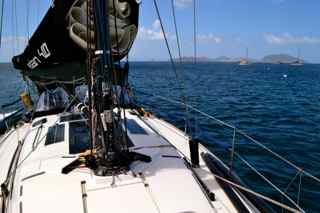 Charlestown is Nevis' only town being a picturesque little town.
The next day we did once again an island tour, Nevis being the 13th island we do by taxi or rented car since we left Portugal in october. While waiting for our taxi and guide the kids found something to climb on!
We stopped first at a natural hot spring.
The water was not warm but hot hot hot!! More than 40 degrees. You just had to get used to it, then it was comfortable after a while…
Our next stop was at Montpelier, one of the islands' most renowned hotels since Princess Diana had stayed here with her sons, occupying the whole hotel for themselves.
Alex was totally thrilled when he found a huge chess!
Our last stop for the day was at the Golden Rock Estate where we went for a hike before having lunch. We walked approx. 1 hour at the South of the volcano in the rain forest.
It was a lovely and quite easy walk until Inez slipped on small rocks on the road on the way back landing badly on her knee. The wound was pretty big and open. After nice assistance from the restaurant the manager of Golden Rock Estate drove us to Nevis hospital. As we are in the tropics Inez got some antibiotics, a proper bandage and it cost us only EC$ 45 = €12 !!
By this time it was 14h30 and we were really hungry! So we took a taxi back to Golden Rock Estate and had a wonderful lunch in a beautiful scenery. The estate goes back to 1801 and nowadays it is owned by an artist couple from New York. Their aims are artistic rather than commercial and then emphasis has been on enhancing the original and new architecture so the whole becomes a work of art.
Lunch in the garden.
On the way out of the estate we saw that he place was full of monkeys!
The view over Nevis Peak on our way back home.
Our last sundowner at Sunshine's Bar. The kids happy to see the swings, the trampolin and the TV again!
As for us we enjoyed excellent rum punch and very comfortable soffas!
Yet another sunset.
---