Horseback riding on Hiva Oa

Take Off
Jörgen Wennberg
Mon 28 Mar 2016 05:02
We came back to Hiva Oa as Eric, being a guest on Heidi, was to welcome his wife Brigitte who flew in from France. Cécile and Louise took the chance to go horseback riding with Pakou, a well know stable owner on HIva Oa. The horse we rode are so called "double poney", more like bigger ponies or smaller horses.
Louise's horse is called "Spirit" and Pakou guided as through a 3-hour horse ride through the mountains of Hiva Oa.
Spirit was so much FUN to ride! He was nearly the same size as our pony Saphir we (me and my sister) had as a teenager and he was a spitting image in character of Saphir: as wild, super energetic as well as reliable and nice. The galloping was totally crazy and I could let loose the reins and he flew away as a champagne cork where he knew he was aloud to gallop. He knew the walk in an out and I just had to hold on! Wow, so much fun! And what an amazing scenery. So beautiful!
We rode through small paths with steep slopes, through thick forests and in heavy rain just on time for a pause under shelter. Pakou explained how he captures these horses wild and then trained them to be mountable. So interesting!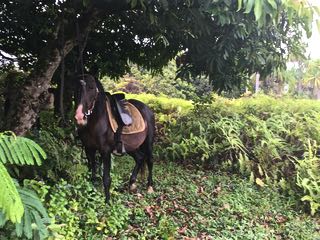 Cécile and Louise with the amazing nature behind us.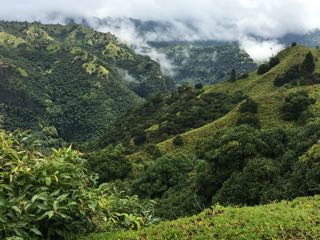 Our next stop we came to a view point where we could see down on the Bay of Atuona and our boats.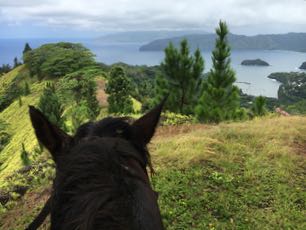 Coming back to the stables pouring with rain all soking wet and … so happy!
The car that Jörgen and Daniel had hired to visit the biggest Tikis of the French Polynesia, being on Hiva Oa, with Raphaël, Alex, Inez and Eric. The car trip (1h30mn) to the Tikis was a bigger adventure than visiting the Tikis… next blogspot.
---