Relaxing days in Marigot Bay on St Lucia

Take Off
Jörgen Wennberg
Sat 28 Mar 2015 04:07
We left Martinique late in the afternoon knowing we would arrive in Marigot Bay by night. We arrived at 20h30 being totally pitch dark! We had been here before so we knew what it looked like and took the first mooring we could see. The rest would sort itself out in the morning.
The Marina had a berth available so we parked Take Off there for 4 nights. Marigot Bay being so nice, access to the pool (for the kids), good wifi (!) and a pleasant little marina the choice was easy. We spent our days schooling the kids in the morning, going to the pool and do all our wifi stuff. Staying at a marina is somewhat luxury: showers, coffee with our coffee machine as we are plugged with 230V (by anchor only 12V), the bakery and the boat is laying still for the night.
Morning walks with the view over Marigot Bay.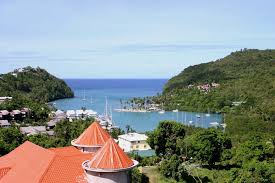 The marina has an access to a pool on the other side of the bay so for the first two days we spent some time there with the kids.
Taking the marina's boat to the pool.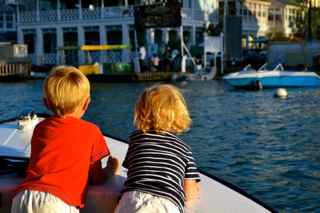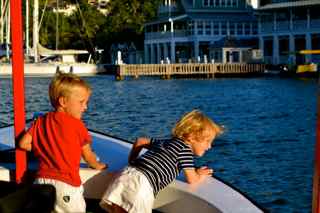 This is the little island right in the bay where we spent our pool afternoons.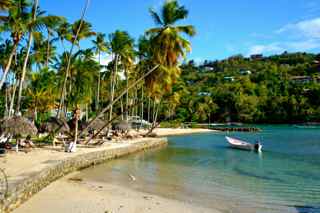 And the pool was empty on guests so the kids got to swim, jump, scream and play as much as they wanted without disturbing anyone.
'
The pool being shallow with no waves, we also took the chance to start giving them swimming lessons.
The last day the Hotel Capella who owns the marina was free from guests so we got the privilege to spend our last day at their pool area which was more luxury! And still with good wifi ;-)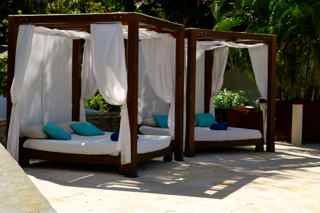 Lunch at the pool
Beautiful sunset over Marigot Bay
Photo taken by Inez!
---