Next stop rounding the Cape - Port Elizabeth and its elephants

Take Off
Jörgen Wennberg
Sun 26 Nov 2017 15:05
On Friday 24th of November in the afternoon we finally got the chance to catch a new weather window allowing us to proceed further along the Cape. Here we are leaving East London together with the rest of the fleet.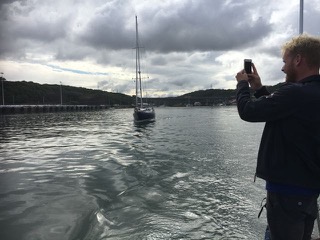 We had a nice and very calm crossing as the wind totally dropped and we motored all the night.
Alex and Victor enjoying their own entertainment in each other's company.
Next morning before noon we approached Port Elizabeth. The weather window was unfortunately pretty short so we had to find shelter in the next marina as soon as possible which was Port Elizabeth. As you can see still no wind...
Entering the harbour of Port Elizabeth...
… we realised that this was a quite big harbour.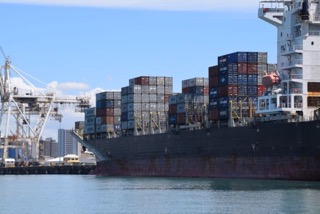 We berthed at the Algoa Bay Yacht Club and enjoyed a nice breakfast before ticking off what is usual once coming into a harbour: laundry, water, gas, diesel and wifi.
Found this boat nearby us. Wonder if that was really the name of the boat before it was abandoned …?
Being "stranded" here in Port Elizabeth, Bob on Lexington had checked out what to do here and found a very well known National Park: the Addo Elephant National Park. We went together with Sandvita, Owl, Tulla Mhor and Lexington. We were lucky to have a driver for ourselves, Peter, who is a pensionist and does this not for a living, but for the social part. He was charming to listen to and very devoted in wanting to show us the best of what the National Park had to offer us. We were given this map and inside was an "Animal Sighting Game". The first to spot an animal got the point and we also learned easily the names of all the animals we saw. Very very smart and so much fun for everyone.
Alex and Inez looking forward to working on the map!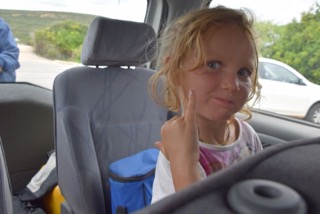 The first animal to be spotted was an ostrich, which gave 2 points.
Then we saw plenty of common duiker.
We were lucky to spot zebras, common duiker and a warthog in the same picture!
More zebras...
…with ostrich. Wow we were nearly loosing the sense of counting our points in all the excitement and the animals at the same time!
Now Inez was taking this seriously and managed to spot two elands, giving 4 points each.
Driving further into the park we could see huge sand dunes in the distance, just looking like snow on hills. A beautiful sight.
The National Park is called Addo Elephant Park thanks to its huge amount of elephants. In the year of XXXX they started the park by importing 13 elephants due to the fact that farmers had problems with XXXX eating all the oranges. The elephants would help them keep away. Since then the elephant families have grown and grown and grown. Peter our guide was very eager in showing us the elephants' water wholes so he headed quite quickly to a safe one. However there was none… And the next one, and the next one and so one. He said that these water wholes could be visited by hundreds of elephants….
Later on we saw one male elephant in the far distance all alone. This means that he is on the hunt for a female. Elephant male wants to mate on their own.
If we were really lucky and attentionate we could see some elephants here and there in the bushes. Amazing how this huge animal can easily disguise in the bushes.
Yes we did manage to see some elephants here and there, however Peter really wanted to show the groups 50 - 100 elephants that are so common in this park.
From nowhere we drove pass this water buffalo giving us 8 points!
Further on we saw this elegant animal the Kudu.
After driving to so many water wholes Peter more or less apologised for not succeeding to find the groups of up to 100 elephants that he was looking for, however we told him that we were still more than satisfied. On our way out of the park he spotted in the far far distance a family of some 20-30 elephants. There were really far out, however Peter stopped the car …. he knew somehow that they were on their way to cross our road. It was amazing to see how these huge and slow animals, always on the move (yes they are always walking, they never really stop) move quite quickly. Suddenly they were just by our car...
… approaching slowly but surely….
… and suddenly they were there, walking pass just in front of the car. It was a crazy sight!
Traffic jam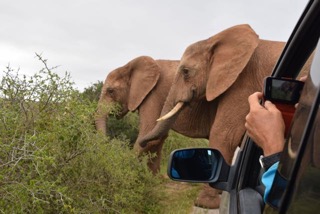 They just passed the cars like there was nothing special to pay attention too. Guess they have seen a few.
This was the end of our day in the Addo Elephant National Park.
Peter our wonderful guide, Peter Joseph.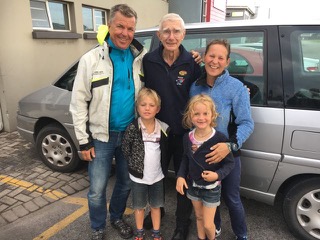 Coming back to the marina, school was on the agenda. Today the classroom had this lovely view over the marina.
In the evening we had dinner together at Angelo's at Stanley Street.
Alex and Inez finding a new friend in Victor.
The day after on Monday 27th of November at 10h30 we left Port Elizabeth to our last stop before our last destination: Mossel Bay.
---