Resort relaxing and diving in Rangiroa

Take Off
Jörgen Wennberg
Wed 13 Apr 2016 21:04
On the 13th april we arrived to our next destination in the Tuamotu Islands: Rangiroa. In Tahitian, Rangiroa is also called Ra'iroa, meaning "immense sky". And for a reason: 280 km in circumference around a lagoon 77 km long and 26 km wide. The largest atoll of Polynesia is also the second largest in the world by the size of its lagoon, which could contain all of Tahiti and its peninsula. Ranger consists of 250 islets separated by hóá, shallow channels between the ocean and the lagoon and two passes: Tiputa and Avatar. Around the passes are gathered most of the 2500 inhabitants.
While Rangiroa was spotted in 1616 by Dutch navigators Le Maire and Scouter, traces of settlement and pre-European civilisations that managed to thrive on this atoll are still present in the form of relics such as mare (a place build with stones where people gathered to take religious and political decisions). Much later, the first Europeans to settle there permanently were Catholic missionaries around 1860. Today tourism, copra harvesting (dried coconut) and fishing are the main activities on Rangiroa.
Opposite to where we were anchored we spotted a beautiful resort. Apart from its beauty, the resort means essentially to us access to wifi.
We spent all day trying to tick off all the things everyone needs to do: bank, school, talking with family and for the kids its youtube and downloading games. Even though we were at 5-star resort the wifi was on and off all the time. We understood that the whole island's wifi is connected to satellites, not an installed cable. And the satellites are passing over us on and off, sometimes for minutes, sometimes for hours. We could find this frustrating, however the whole island's technological infrastructure depends on these satellite: bookings, paying by credit cards, etc. Imagine working in these conditions… however it is something they are used to and we should be quite grateful with our 4G systems in Europe!
Coming back to Take Off we had beautiful sceneries just right by the boat. Big swells brushing up the coast creating some smoky waves.
And a few visitors on our bow! Beautiful birds: what a sight! However some cleaning afterwards was needed...
Alex and Inez finding their activities on Take Off.
In the evening we went to the Kia Ora Resort where they had a traditional Polynesian Dancing Evening. Great fun!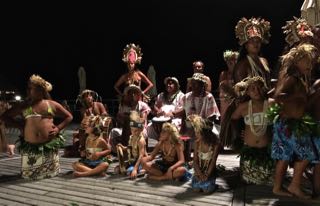 The next morning we went off diving in the pass with the current coming in. This is Jörgen below Louise. Diving with the current is such an amazing feeling. No effort to be done. Just follow...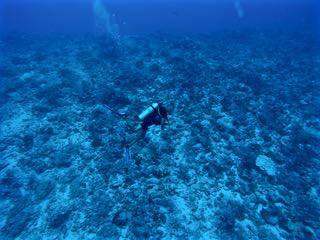 The visibility is amazing and this diving gave us a thousands fish to swim with!
---