Hideaway for a few days

Take Off
Jörgen Wennberg
Wed 18 Oct 2017 15:12
We rented a car for our whole stay on Mauritius so we took the chance to get away from the boat for 2 nights. We started by driving North and visit Grand Baie.
We stopped for lunch in Grande Baie.
The landscape was amazingly beautiful and we enjoyed Mauritius' "skyline" whereever we drove.
We stopped at the Hotel Intercontinental and luxured ourselves for 2 nights...
Once again Alex and Inez found new friends!
I guess we saw the Green Falsh?
All these following pictures are more than luxury for us: taking a bath ...
… lying in bed watching TV...
… just lying in a bed being still, dry and big.
… using a toilet that flushes (no pumping) and showering under hot water.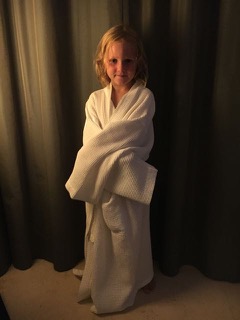 Our morning view
… taking our excercising morning swim as well as excercising. Something that we really neglect.
Inez running for her morning swim.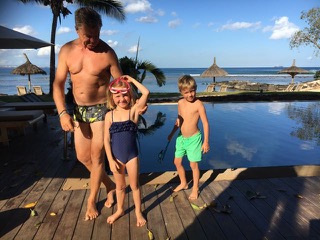 Very happy to start the day like this.
Amazed how quickly Alex has now learned to swim in the pool from side to side.
This day we opted for some activities…. going sailing haha. Pär and Jörgen went for sailing on a hobie cat while Louise went for sailing on a laser.
Happy hobie cat and laser sailors coming back after an hour.
Nice walk back to our hotel.
In the meantime Alex and Inez had found the kid's club where they spent 2 whole days there.
Alex and Inez having tattooed their hands with henna.
Thursday night 19th of October, the hindus celebrate The Light, which they called "HAPPY DIWALI". This is a highly symbolical celebration for Hindus, marking the victory of good over the evil. Houses are adorned with multiple lights and special sweetmeats are shared around with family and friends.
On our way back to Port Louis, we saw a few of these Hindu temples.
---