The beautiful Bay of Anahoe

Take Off
Jörgen Wennberg
Mon 4 Apr 2016 01:25
Heading of to the next bay on Nuku Hiva - Bay of Anahoe
The day after we took the chance to provision more for the coming weeks. We started by visiting the market at 8h30, however most of the fruits and vegetables were already gone. The market had been open since 4h00 (!) in the morning.! We then went to the local food store. According to the Manager we were so good customers that we got each of 2 bottles of wine. We could choose anyone so they gave us 2 bottles of Châteauneuf du Pape. Imagine if that would ever happen in Europe?
We finally found our last goods at a store by the anchorage. Happy!
There are signs and signs… The one to the right says "Forbidden to feed and to kill the sharks" !
We had our last lunch at the "restaurant" where the kids found new friends. Inez playing with Marquesians boys and Alex with Amercian boys.
And the last wifi for a while too…
This "restaurant" served the best of fish dishes.
Check out the kitchen conditions they cook their dishes!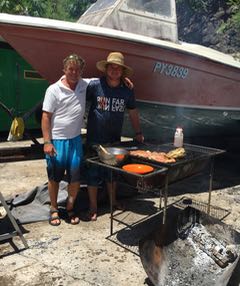 By noon we left the Bay of Taoiehae and its beautiful surroundings and coast.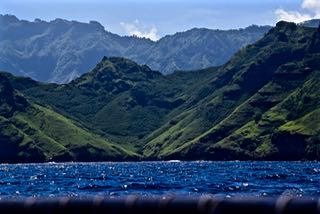 What a sight the Bay of Anahoe gave us while arriving! Totally breathtaking! This bay is totally sheltered by a circus of mountains around the bay.
The day after we took a long walk around the beach accompanied by a baby shark along the beach.
On our walk we met this French family on the catamaran "L'Océan" with 2 boys of Alex's age. They had been out sailing for 5 years already, with a starting plan of only 1 year. This still don't know when they will start to head back to France. Fascinating and inspiring! The boys had a good play time.
Louise went for a walk up the hills...
… while Jörgen, inez and Raphaël rested on the beach.
On our way back we met lovely local people and got a last fantastic view over the bay.
By late afternoon before sun set we left the Bay of Anahoe to start our first long distance sailing trip only the four of us. Exciting!
---