Leg 7 Vanuatu - Australia

Take Off
Jörgen Wennberg
Sun 23 Jul 2017 22:03
We are so happy and glad that we found our crew, a French guy Florian, willing to sail with us from Vanuatu to Australia! He started his sailing with us by fixing this delicious breakfast on Take Off.
Already the first day we got to see a whale (?) at the far far distance…
Sunset behind the waves
Inez's several sleeping positions!
Yet some more reparations… Florian helping us to repair a whole in the spinnaker.
Knowing that we will soon enter Australia and that they do not allow any fresh and living organism, this is a hat-dry-mission in order to save our souvenirs from Tanna and Port Resolution.
And some more repairs. After only half a day sailing we heard "noises" from the rudder and discovered that the bolts under the quadrant were not tightened…. oh well here we go again…. Jörgen diving down to tighten them all one by one.
Schooling and playing,,,
.. and painting!
Jörgen happy to eat French cheese and drink red wine!
How to eat crackers and cheese when leaning too much?
Florian being an extra good hand sailing with us! However he was sea sick during 5 days. Still he stood up for his watches. Courageous.
Movie time!
Inez helping to cook, preparing the beans for dinner, together with Florian.
A beautiful sight over our last crossing of the Pacific Ocean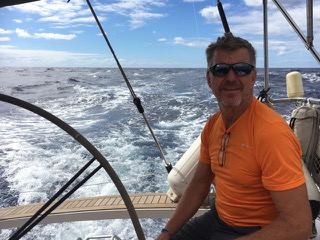 A "real" sundowner with coconut water, coconut and fresh peanuts!
Fun time with Florian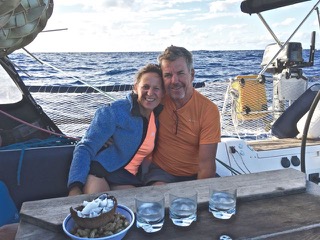 Florian taking time to read for Alex.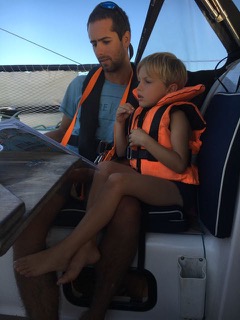 Louise appreciating foot massage!
More movie time, this time with Florian's computer and the movie Aladdin.
Our last day approaching Mackay and entering the Barrier Reef which showed to be very very tough! Hard head winds and standing waves making the last 15 hours quite exhausting.
Beautiful sunset sailing
Cosy time before bedtime
---