Diving in La Réunion

Take Off
Jörgen Wennberg
Tue 31 Oct 2017 17:00
31st of October: this afternoon we had organised a diving tour with the diving operator at the marina. Sam and Bob from Lexington, Jeff from Altair, Dietmar from Cesarina, Bill from Owl and Louise and Johan from Take Off all went diving together.
We love this picture! Not being attentionate and being attentionate ;-)…. Bill and Bob!
We went diving outside of St Paul where long long time ago lava had been flowing
down into the sea creating lava corridors in the sea. The site is called Tour de Boucan. It was really a fun dive. Although the visibility was not the best, the site was lovely to dive.
A little Spanish dancer. Furthermore we saw: lion fish, anemone with clown fish, "soldat à oillères", monorail, bullseye, yellow eyed lyre tail, blubber lip snapper.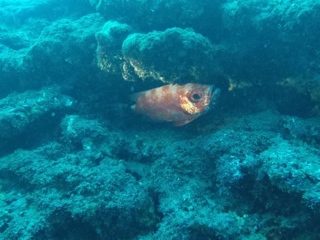 I think this is Bill from Owl.
Dietmar, Bob and Bill.
---