Last day on Dominica

Take Off
Jörgen Wennberg
Sat 7 Feb 2015 16:34
DOMINICA - Our favourite island for so many reasons! Friendly people, beautiful and breath taking landscape breathing fresh water, colours and freshness! A country in harmony with a political party being human and caring for its people. Dominica being authentic and pure, it's a country with faith in the future and happy people. Dominica is the West Indies: the culture, the people and the landscape as well as keeping its wildness. An island to come back for! Sad to leave however always looking forward to the next island. Some memories of our last day on Dominica.
The last morning the sea was so still and calm. View of 99 Bottles from Take Off.
The sea was crystal clear and you could see the bottom as if it is half a meter deep, however the depth is over 5 meters.
Alex and Inez shouted that there is a big fish next to the boat. Yeah, yeah… as usual you think they are exaggerating or fantasying. As you can tell it was a big fish! A barracuda was taking shade behind our keel due to the calm sea and was totally still. Very peaceful.
During the morning we got visit from a Dominican guy Jason with his kids Shanel and Josh. Jörgen had helped him as Jason's employer, a Swedish guy with a big property on Dominica had just died in a heart attack. Jason had seen our Swedish flag from ashore, came up to our boat and asked Jörgen for help. Yes it was an awkward situation and Jörgen helped him out with different procedures. Jason was so thankful so he came to our boat with plenty of fruits from his garden: bananas, mangos, pineapples, tomatoes, cucumbers, oranges, avocados and more. We got so much that we hade to share with Morning Haze and 99 Bottles. They stayed for lunch and we had a nice time together.
In the afternoon Rebecca, Pieter and Roel visited us by swimming along and swam away back to Morning Haze.
Alex is the one inspiring Daddy to play chess with him so that he also can teach Inez to play!
As I had fallen in love with the bar "Felix Bar" I brought the rest of the family and friends for our last sundowner in Dominica. Felix has this little bar right on the beach. He lives upstairs over the bar and uses the bar also as an atelier being an artist. I bought the loveliest painting symbolising one of the waterfalls we saw!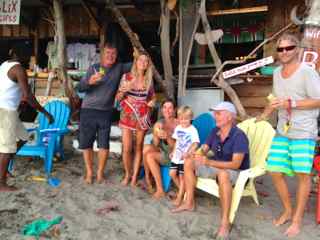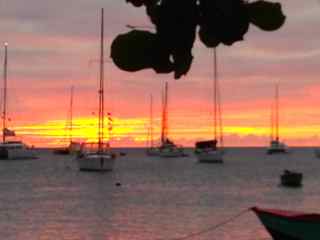 Early next day we left for Les Saintes South of Guadeloupe. This being a short distance and Jörgen not feeling well due to the parasite in his body and taking antibiotics we had a "morning gown-coffee" crossing to Les Saintes.
Once in Les Saines no one could bother to cook so we went to a very nice restaurant Le Genois with Morning Haze and 99 Bottles.

This evening Inez wanted to be well dressed for the restaurant.
---