Celebrating Easter on Tahuata

Take Off
Jörgen Wennberg
Sun 27 Mar 2016 08:54
9.54 S
139.06 W
After Hiva Oa we motored to the closest island South of Hiva Oa called Tahuata. We were told that the Ana Moe An, even called Steven's Bay, on Tahuata as the most beautiful clear water of all the Marquesas! Wow they were right! This morning the kids are morning dipping for the first without their armbands. Another step towards Alex and Inez being more independent.
Heavy rain permitted us to take the chance to properly clean the boat from all the salty sea water. This bay is also know for its "Two Men" on the cliff. If you look carefully you can two faces in the rock!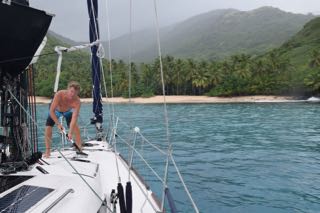 Inez helping to clean the cockpit.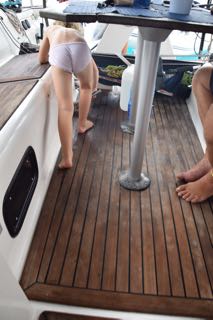 The bay has beautiful colours, in the water as well as up in the mountains.
We spent the Easter week-end on Tahuata together with Heidi.
We had Easter lunch on Heidi and ...
… the weather became more promising just on time for the Easter Egg Hunting...
Ready steady go! Alex, Inez and Raphaël went loose in Heidi...
… and all 3 found their eggs. Happy!
Sailing from Tahuata back to Hiva Oa to fetch Eric's wife Brigitte who is coming to visit from France.
When we came back into the Bay of Atuona, Louise managed to close a lid from the cockpit on Alex's finger cutting it off just above the nail. Yes there was blood everywhere and a screaming Alex…. Luckily Eric is a doctor and he came quickly to take care off Alex. He was really brave and so was Mummy...
---