Chatham Bay on Union Island

Take Off
Jörgen Wennberg
Tue 30 Dec 2014 03:53
Christmas on Chathamn Bay, Union Island, was so great we found it hard to leave the place. Chatham Bay offered us a beautiful and peaceful beach and good snorkling. When we woke up early in the morning we could see pelicans flying into Chatham Bay diving for their fish.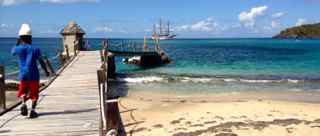 After some time together we realised the four families on Aretha, Khujada2, Matilda and Take Off were having such a good time together that we also found it hard to leave the family group. Every lunch and dinner followed on one another and that was the week spent together at Chatham Bay! A paradise for family boats.
The day after Christmas Aretha invited us for lunch. 8 adults and 10 kids.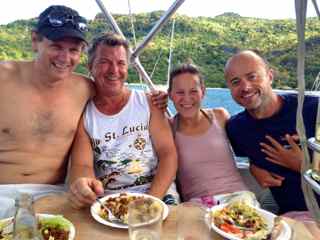 The days after we ended being one of Tim's best customer for this season at his restaurant Bollhead. This day Tim hade gone fishing lobster in the morning and for lunch he served grilled lobster, tunafish and other Caribbean dishes.
notice the grilled lobsters!
I couldn't resist having a look at the kitchen. How do they manage to cook such delicious dishes in a place that looks more like an abandoned cabin than a restaurant? This is the kitchen! The European Health Authorities should really do some study visits here. We ate lovely food and kept healthy all week!
Being such a good customer (8 adults and 10 kids!) Tim let us use his grill for free. Our own "Event Manager" Barry grilled our own food turning into a lovely lunch. The kids spent the rest of the afternoon swimming in the sea and we were happy drinking Tim's lovely pinacolladas!
This lunch continued till the Sundowner …
After a few days we found the need to come into the town of Clifton. Do some laundry, provisioning and …
… Internet! Chathamn Bay being totally out of reach whatsoever everyone was thirsty for the outer world.
Parents working and the kids happy to go to yet another restaurant
Now 2 more boats have arrived at Chatham Bay. Two Norwegians boats Delphia with 4 kids (!) and Time Out. This time we were 15 adults and 14 kids. Tim finished off the evening with a bonfire!
This night our French Friend Albane on Khujada2 made a lovely French meal with Foie Gras, Magret de Canard and a rich chocolate cake for Nicola's (on Aretha) birthday.
And then our turn. Being the smallest boat this was a challenge to fit everyone in! We managed to fit all the adults in the cockpit for wine and cheese and all the kids for a movie in the saloon.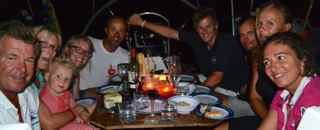 Our dingy became quickly one of our best tools which the kids learned quickly to be a fun toy! So the kids took each turn to help Daddy drive the dingy
Our new friends!
One of our last Sundowners
The view from the West Side of Union Island towards Mustique
---