A typical day at sea

Take Off
Jörgen Wennberg
Wed 11 Oct 2017 22:05
Many people ask us what a typical day is at sea. Well we do more or less the same routine tasks as on land however with some adjustments.
Jörgen takes the night shift from 05h00 - 08h00 so he is awake when we wake up, Louise, Alex and Inez. Most of the time we get to enjoy the sunrise together.
While Louise is cooking breakfast Jörgen is reading for Alex and Inez while Helmer is steering.
This is our harvest from the night, however these are small ones: flying fish, squids and we have had a little crab.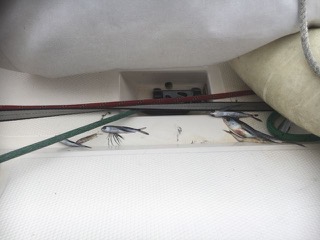 Today is the lucky day: it's Saturday which is pancake day. It does work, you just need a bit of planning and practising.
At the same time we do our own yoghurt which will be ready for the day after .
Pär has just woken up and we have breakfast all together.
Some day we try to attempt fishing. It still has not been our strongest successes, but we are still trying!
After breakfast Jörgen goes to sleep while Pär takes over the steering...
… and Louise, Alex and Inez goes for schooling.
Time for lunch Louise gets some help from Inez. Before that we take care of the morning trash and everything we throw away in our bin (plastic, milk and juice packages) we cut into small pieces. It's amazing how much garbage space we save.
Sometimes Alex and Inez prefer to have their meal downstairs where it's more dry and the food does not run away everywhere. They easily squeeze their plate between their feet and enjoy their meal in a more calm way.
This meal inez liked… spaghetti bolognese?
If school work has been done properly Alex and Inez are aloud to get the afternoon free for playing. This time they built a hut with their sheets in the cockpit under the table.
The day after they built their hut in the saloon with the flag of Christmas Island on the top.
Alex found it so cosy that he decided to do is his school work there!
Other afternoons Alex plays "Volvo Ocean" with his "plus plus". Every plus plus is a specific colour representing each boat: black is for Scallywag, green for Brunel, red for Dongfeng, white for Mapfre, orange for Vestas 11th Hour, purple for Akzo Nobel and blue for Turning Tide on Plastic. The yellow is an intruder as it is for Abu Dhabi who is not competing this year...
If we lean properly on the starboard side they get to play lego. The leaning is to keep all the pieces in one place haha.
Wednesdays and Saturdays are iPad days for a few hours.
From time to time we see some fellow friends out at sea.
This afternoon Alex and Inez wrote their wishing list for Farther Christmas. Might as well make it on time!
Most of the time we had one or two reeves however this day we got the chance to fly the spinnaker. Lovely!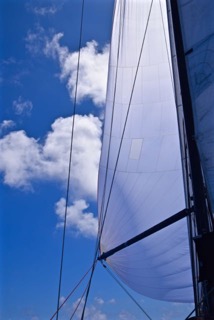 The best and most efficient tumble dryer: the sun and wind of the Indian Ocean.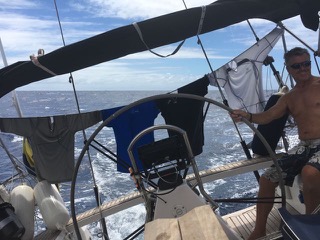 Relaxing afternoons: reading and blogging.
This day was another special day: Inez lost yet another tooth! However she managed to loose it somewhere in the boat so she had to write a note to the tooth ferry. "Dear Tooth Ferry, I lost my tooth but I cannot find it. Can you please come? Thank you Inez". Yes she did come.. however this time with a dollar note as she run out of local currency (Indonesian, Mauritian?).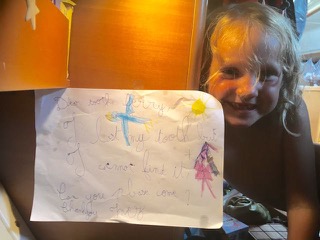 The holy hour of the day : the Sundowner playing cards when the sea allows it.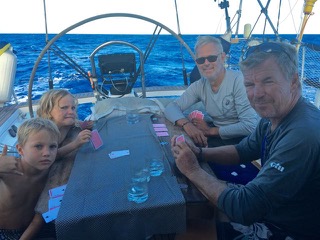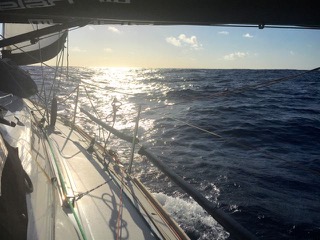 Enjoying sunset before cooking.
Looking out for the "green flash" while the sun is sunsetting.
Jörgen steering during sunset while Louise is cooking for dinner.
Dinner
Wednesdays and Saturdays are also movie days. This time Jörgen got to join the kids.
At 20h00 Pär and Jörgen go to sleep while Louise is taking the first watch which is 20h00 - 23h00.
Second watch is 23h00 - 02h00: Jörgen.
Third watch is 02h00 - 05h00: Pär.
Fourth watch is 05h00 - 08h00: Jörgen again.
Jörgen and Pär switches every second day to take turns who will have one or two watches per night.
This is our day at sea!
---