Alex and Inez going to the local school St Anne

Take Off
Jörgen Wennberg
Thu 24 Mar 2016 07:54
Jörgen's friends Staffan and Ellinor on the Yacht Salsa who have now been sailing for several years with their two children recommended us to ask the local school if Alex and Inez could join one class as they are French speaking. Why not! We talked to the owner of the Pear Lodge Hotel Jean-Jacques who said that his wife Joséphine is a teacher at the local school and that she could ask the headmaster.
The day after Joséphine confirmed us that it was ok. However the class of Alex's age (CP) was going to the dentist the whole class just that day, the Wednesday before Easter, and then the Easter holiday were to start. So Joséphine asked the nun school L'École St Anne if they could host Alex and Inez which was with pleasure.
So the Wednesday before Easter they got the chance to got to school . At 7h15mn Jean-Jacques picked Alex, Inez and Louise up for school. Alex and Inez waving goodbye to Daddy.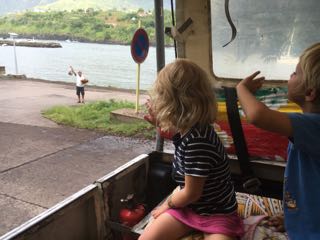 10 minutes later we are standing outside the local school L'École St Anne, quite excited! Their teacher Jolina welcomes them into the class.
Outside their class and the school yard.
As it is Wednesday, they go half day so Joséphine picks up Alex and Inez at 11h30 and drives them back to the harbour where we wait for them. It is only a few days before Easter so they were hunting Easter eggs at school and came back with a basket of chocolate Easter eggs each and a huge smile!
Difficult to keep the chocolate until Easter when they melt within seconds in room temperature so they were eaten straight away!
---