Our last day in Gili Gede

Take Off
Jörgen Wennberg
Sat 16 Sep 2017 12:24
Our very last day in Gili Gede we enjoyed taking our morning dip as usual. Beautiful sunrise looking over the bay.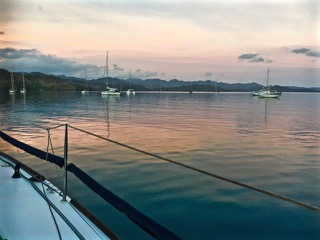 Inez always first into the water!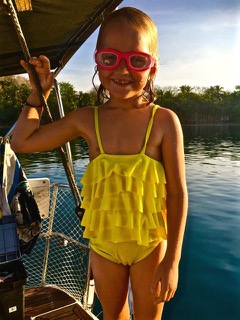 This morning we took our time to go snorkling at the island North of Gili Gede. Not did we know that this snorkling was going to be the best we have ever done after Fakarava South in the French Polynesia. We made a drift snorkling in 2 sites and wow what a view!! Just like a living aquarium… crystal clear water, bright colours and lots lots lots lots of fish!
We took a taxi boat to the snorkling place.
This was an interesting view we got just when arriving at the snorkling spot… a cow to be towed in a taxi boat!
So off we went drift snorkling and what an amazing ride!
At the end of this snorkling we encountered many curious fish which we encouraged by giving away some banana.
This Inez and Alex liked!
What we were especially so happy about was Alex and Inez now daring to free dive by themselves.
Happy and proud kids!
Our snorkling guide showed us a blue sea star that he then put back where it belonged.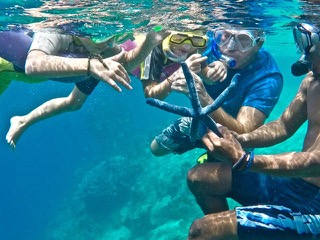 The fish life in this snorkling area was thrilling!
Happy snorkelers.
And so we took off for our next snorkling spot...
… which was as amazing as the first one. If not even more beautiful.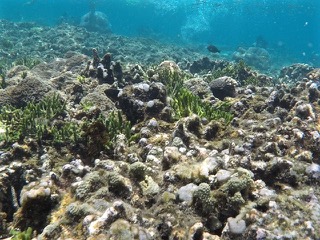 After the snorkelling we took a taxi boat to Kokomo Island Resort where we enjoyed a lovely lunch in a beautiful surrounding.
Just as we were fnished with lunch Inez finally lost her tooth that she had been dealing with for quite a while. Now she really has the proper "glugg", now calling her "gluggnissa"!
Leaving Kokomo making our way back to the boat preparing for tomorrow's departure.
The day after the tooth ferry had come to visit Inez and Mado gave also a penny to Alex and Inez.
Right after breakfast came the time for the goodbyes! Wow 2 weeks passes really quick and it was a pleasure having Mado on board.
These 2 are now switching places: Mado is leaving and Pär is joining us.
Mado taking the taxi boat off to Kokomo where she will take a speed boat to Gili Air spending some days passing her diving certificate. Yes indeed it was sad seeing her leave.
Coming back quickly realising she had forgotten something that was drying.
Now off again!
Thankyou Mado for these 2 lovely weeks together!
---