Many visits & planning for leaving SA

Take Off
Jörgen Wennberg
Mon 8 Jan 2018 12:00
Amazing how many friends we met in Cape Town while berthed during Christmas & New Years Eve. Seems like Europe flees over here for the Christmas Holidays! Some we knew about, some we just bumped into by chance. So fun!
BrittMarie & Peter Yngwe from Portugal who also is friends with Anne.
Linda Burenius, a friend from University, whom I bumped into in the harbour coming back from the laundry asking me for the way in English until she recognised me behind my sunglasses. We were as surprised both of us!
Maria Nilsson, another friend from University, who I by chance saw her post on Insta telling she was on her way down to SA for New Years Eve. A quick message and a few days later they came to the boat too!
Shopping for the crossing over ot St Helena, Some challenges with the goose neck.
Welcoming our new crew member Louise Wistrand (who later on would show to become someone else…)
SKIPPER'S BRIEFING FOR LEG 15 : CAPE TOWN - ST HELENA - SALVADOR
The day before departure, same procedure as every time, checking out from the country. However this time, we had a challenge as according to the SA law we had to have the kid's birth certificates, showing Alex & Inez really are our kids! So a quick mail to Folbokföringen in Sweden and fetching the personbevis at the Swedish Consulate of Cape Town 😅.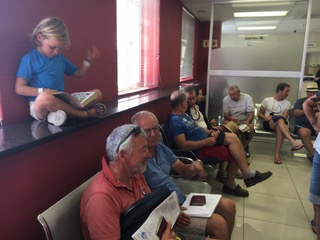 Last dinner with the last view over Table Mountain
6TH OF JANUARY : DEPARTURE FROM CAPE TOWN
The Goodbyes with the kid's friends small as big ones. A hug with Yellow Shirt Manuel from Portugal and Victor from France as well as the Russian boat Arabella.
Hugs with the kid's Israeli friends. Hugs with good friend Lasse on Sandvita. See you in 2 weeks time!
Our crew for Leg 15: Jörgen, Louise, Alex, Inez Henrik & Louise
Leaving the Victoria & Albert harbour. Seals finding their plot of leisure.
Seeing a Sun Fish on our way out!
Sad & exciting moment.
We had changed our auto-pilot and had tested it by calibrating it a few days earlier. However this procedure seemed not to be enough as the auto-pilot did not want to work! It automatically turned port all the time and there was no way we could cross the Atlantic twice with this. Carl who had helped us install the auto-pilot came out to us at sea once we had missed the departure, seeing all our fellow boats sailing westwards leaving the horizon. He came onboard for 2 hrs …. but in vane, we had to surrender and go back to the harbour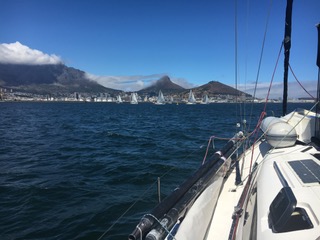 In the harbour, Carl worked with it until 18h00 with no results. Being Saturday today, we had to wait 2 more days until Monday for him to come back working on the auto-pilot
In the meantime we spent more hours in the harbour & restaurants and happened to meet some Swedish people from Borås being friends with Karl Wistrand, Louise' uncle.
---