Bequia

Take Off
Jörgen Wennberg
Tue 20 Jan 2015 03:34
After Tobago Cays our group is now split up ;-(…Aretha on its way to Panama, Khujada to Martinique to meet up with Albane's parents, Matilda on its way up North and we need to go to Bequia to pick up the badly ripped off spinnaker mended at North Sails in Port Elizabeth. Our sailing to Bequia showed to be a very windy and rainy trip!
As we thought after 3 weeks (we had left the Spinnaker at North Sails on Bequia at Christmas) it was still not fixed, ha, ha… which left us the pleasure to enjoy Bequia for a few days and to visit a friend Carina Petersson who now lives in Bequia. We met her at the Gingerbread café with her boyfriend Devon. Lovely seeing each other again!
The day after we took a taxi around the island starting with Port Elizabeth, the only town on Bequia and then a view over of Admirality Bay and visiting the Hamilton Fortress, once the defence of Bequia.
We then headed over to the Atlantic side of Bequia to visit the Turtle Sanctuary started by a gentlemen who was going into pension. He saw that the turtle population was declining due to too much hunting. His strategy is somewhat criticised by some as he goes against nature. He picks up the eggs on the beach and makes sure they survive in his sanctuary. Naturally only 1 out of 3000 eggs survive!! He brings them up in his sanctuary and when they are ready he lets them out into their natural environment. By this he has managed to make 1 egg out of 300 survive and the turtle population has increased. All this is volunteer job and the sanctuary only lives on the small entry fee and donations. The kids loved it! A must if you visit Bequia ;-)
3 months old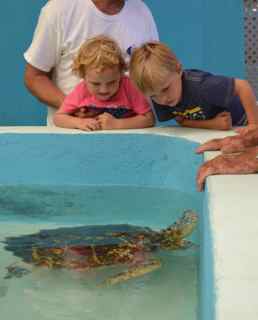 Every day he changes the water of all tanks. The biggest cost he has for the sanctuary is to feel up the water tanks with new water from the sea every day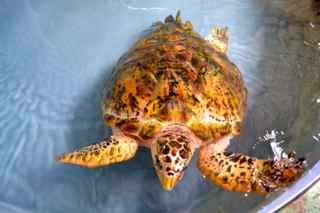 16 years old
Here is the pipe behind the sanctuary that pumps in new water every day.
The kids got to feed the small ones with sardines! View from the sanctuary over to Mustique.
On our way back we stopped at Spirit Beach. A beautiful and characteristic beach. The kids found "toys" they absolutely wanted to bring back to the boat. We said that the taxi chauffeur would not let that in the bus so end of discussion ;-)
In the afternoon Carina kindly invited us to their BBQ on the beach a Sunday afternoon with their friends. Both kids and us had a lovely time with the local people. Alex and Inez playing with Devon's niece.
On our way we fetched our repaired spinnaker and considered leaving Bequia the day after when Alex shouted "Look there's Chili!!". Chili is a Danish catamaran with Anders, Tina, Gustav (10 yrs) and Asta (8 yrs) on board. So we passed by to say hi to them, got invited to a sundowner and they asked us if we wanted to come with them for diving in St Vincent. Lovely! Why not? So we stayed for another 3 days in Bequia before heading North… The day after we got another surprise: 99 Bottles came in on Admirality Bay, a Dutch catamaran with 4 kids on board. So we invited them on board for a sundowner and we all had dinner at the Jack's Bar.
We also visited Friendship Bay and had a wonderful lunch at the Bequia Beach Hotel managed by a Swedish couple. The taxi journey was most fun according to the kids. No need for belts and it's open!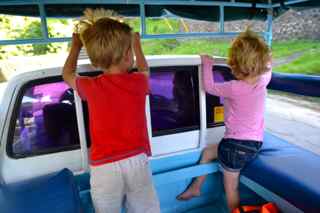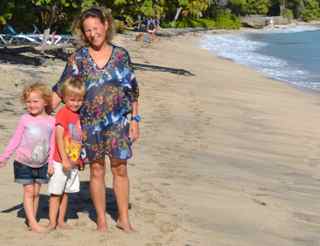 Admirality Bay on our way back
The last day in Bequia we spent at the beach of Princesse Margaret nearby Jack's Bar. On the side walk we saw a Gold Spotted Eal, a Crab and an Octopus. Very rich sea life!
The view from the café with the best wifi ever so far in the West Indies, Maria's Café with 5G!
---