Sunset Champagne at Lion's Head

Take Off
Jörgen Wennberg
Thu 21 Dec 2017 12:00
A few days before Christmas, we planned this morning to do the "Pepparkakhus". We had been cheating by asking Mormor & Morfar to buy the pieces needed to do the house. Unfortunately, they did not come all the way from Switzerland to Cape Town in one piece. No worries, gluing them together with sugar worked perfectly well.







The result!
The kids' wishing list for Father Christmas
For today's sunset we went off for a walk up to Lion's Head… more like a proper trekking in a beautiful landscape scenery.
Table Mountain with its Twelve Apostles. Table Mountain with Cape Town below.
A bench with a view
It was a quite rough and steep walk. Good on Mormor & Morfar to have come so far!
Looking at the top realising there's more.
Turning around Lion's Head,
we have the view again North over Signal Hill.
And now comes the climbing part! Mormor & Mortar still hanging on with us.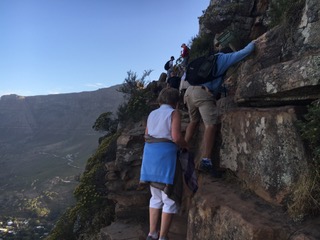 Looking at the amazing view helps to overcome… and then the reward!
A fantastic view over Camp's Bay and the Twelves Apostles.
The Table Mountain National Park
Champagne Brake - A true Sundowner.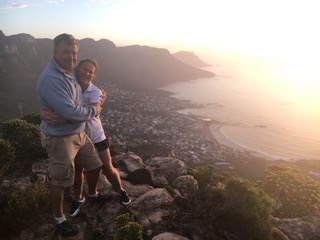 The way down was pretty tricky.
As the sun set quickly, it got dark.
Really dark!
---