Visiting Tahiti for a day with Heidi

Take Off
Jörgen Wennberg
Sun 1 May 2016 07:18
On Monday 1rst of May we hired a car for the day and drove all the way around Tahiti. We started with the house James Norman Hill. Norman Hill is the author of the well known true story "The Mutinity of Bounty". Bounty was a British vessel sailing in the 17th century with Captain Bligh who got sacked from his vessel by his crew.
We had lunch at Royal Tahitian with a view over the canoes training for competition. What a sight!
View over Moorea
2 crazy families together...
Driving further up Norht we came to "Trou du Souffle" which is a blow whole in the cliffs from the sea. When the waves are smashing towards the cliffs it creates such a pressure that the air blow through this little whole ...
… and creates a blow sensation that sometimes….
… can nock you off if you don't hold tight on to something solid!
The next stop was Les 3 Cascades. Magnificent waterfall!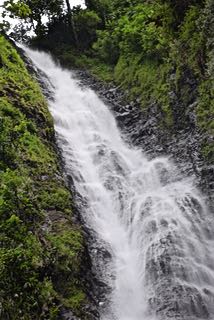 We drove around the island and are now heading down South again towards the little half-island Tahiti Iti, attached to Tahiti. By the end of this little island is a small village, Teahupoo, very well known for its big waves outside the reef. All surfers know this place and Teahupoo holds yearly championships in surfing competition. Unfortunately the rain was pouring down so we could not take the boat out to see the waves more closely, but the waves were big enough to see from shore!
All prominent future surfers!
And we chose to surf more safely haha...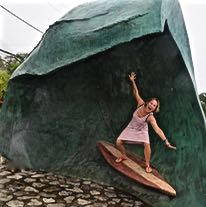 Coming back to the harbour Heidi showed once again to be of great help in any issues… this time Raphaël helped Inez mend her broken scooter!
---