The great welcoming in Mackay and facing facts...

Take Off
Jörgen Wennberg
Thu 27 Jul 2017 13:04
We arrived into Mackay on Wednesday 26th of July at 23.30. We had no working engine so Tulla Mhor kindly supported us if we would have needed assistance. We could however run the engine for 10-15 min and as the weather was very calm we managed to get into the marina by ourselves. And there stood the Russian boat Arabella, the German boat Ashia and the Norwegian boat Aurora Polaris and welcomed us …. somewhat very happy haha….
We thought we would go to bed as quick as possible as we knew that the authorities (customs, immigration and quarantine) would come and start their inspection and check-in at 07.00 in the morning… however Arabella had been strictly told by the customs that we were aloud to only bring in 2250 ml of wine / spirit per person. Arabella had over 100 (!) bottles of wine on board!! So the party had to start… and it had started before we came and well into the night after we already had gone to bed at 02.00! It was really great fun and we had good laughs! Wow these Russians really know how to party!
The customs, immigration and quarantine were on time… 07.00! Coming into Australia you are not allowed to bring in any fresh food such as fruits, vegetables, eggs and all sorts of meat. So we have been stuffing ourselves with all the fresh food before arriving into Australia. Especially chicken… We had provisionned (apparently a bit too much) in Fiji, especially on bacon and chicken as Gabriel needed a lot of protein and our new crew Florian showed to be … a vegetarian, haha! So the 4 of us have had bacon and chicken for breakfast, lunch and dinner… until the very last meal : breakfast before the inspection and the check-in.
Customs inspection done by the dogs of the Australian Boarder Force. Notice the small shoes to not damage the boats! They inspected our amount of alcohol, medicine and how much money we had with us. According to them we had a bit too many bottles (5?) that they sealed in a locked area in the boat together with the morfin we had onboard.
You wonder then what happened with our Russian friends on Arabella? Sealing 100 bottles of wine? I don't know how they got away with it, but apparently their bottles did not need to be sealed…
Then the quarantine came interviewing us for over an hour and checking on everything: food, fridge, freezer, all our souvenirs (our hats from Vanuatu passed the test, they were totally dry!), our sea shells we have been picking from different beaches, which our last 6 ports have been, etc.. and we passed!
During this time Alex and Inez were playing in the quarantine area understanding they had to wait until we could officially be "in" Australia.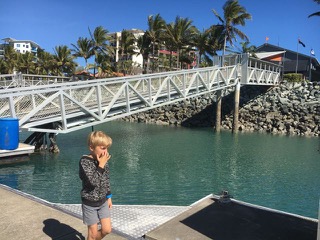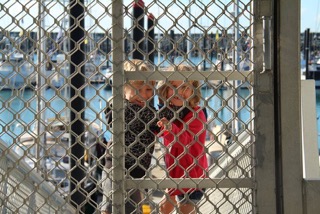 Alex and Inez finding their Norwegian friend Terje on Aurora Polaris, well known for his cinnamon rolls! Yes Terje had baked a new load giving Alex and Inez a special bag only for them.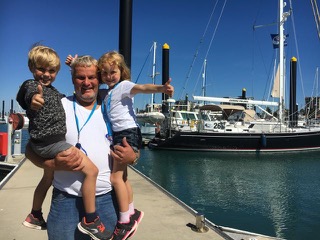 Since we left Fiji we have been struggling with water leakage that we have managed to localise coming from the rudder. We guess it is due to the fact that the bolts were not tightened enough causing damage on the XXXXX and thus water leaking in. At the most sailing from Erromango to Port Villa (approx 15 hours) we pumped out 36 L!! Luckily we knew we would come into Mackay where it is possible to both haul out the boat and repair the rudder. So Friday 28th of July Take Off was hauled out and the repair started straight away.
Just opposite of us in the boatyard we found Widago!! An American boat with kids too that we sailed with from St Lucia to Raiatea.
The same day the rudder was dismounted in order to see how big the damage was. And it was not good. This will take more than a week we were told… Please is it possible to do what you can so we can leave next week-end, the 4th of August? The people at the marina were very friendly and service minded: Tim, Marc and Richie said they will do what they can. Crossing fingers… However the most important is that the rudder stock is repaired and get a dry boat.
The Mackay Marina
---